Athens Drive's First Year Teacher of the Year award 2022
This year, the First Year Teacher of the Year award was given to Taylor Tippins, a history teacher, and Justin Reitz, who teaches special education. The awards, given to a first-year teacher at Athens who displayed exemplary work while at Athens, were presented to them both by Stephen Mares, Principal, alongside a blown-up poster, balloons and a small gift basket.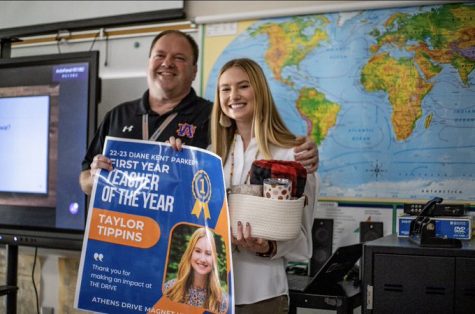 Taylor Tippins is a recent graduate from Appalachian State. She received a degree in secondary social studies, and student taught at a small college in Ashe County. She came to Athens Drive because of the draw of the Magnet Program.
"My goals are to be the best teacher I can be and to create a positive classroom environment where students feel safe," said Tippins.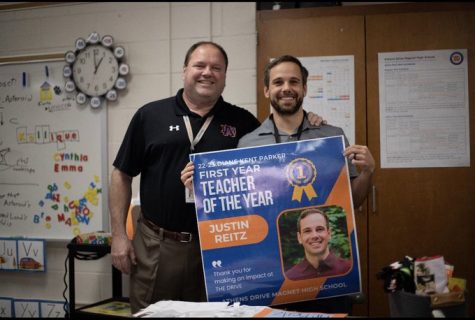 Justin Reitz is a graduate of McDaniel College in Maryland, where he received a Bachelor of Arts degree in History in 2009, and a Master in Science degree in Exercise Science and Physical Education, also from McDaniel College, in 2014. He completed a Residency Licensure program, allowing him to bypass student teaching altogether.  He was drawn to Athens for its reputation of having a tight-knit group of teachers. 
"Being recognized as [a] first-year teacher of the year means that even though I have had my tough moments, that I am in fact doing a good job and am helping to make a difference for my students," said Reitz.
Both of these teachers have been nominated for a state-wide award for First Year Teacher of the Year for their accomplishments at Athens Drive, where Tippins became a finalist.