sweetFrog Charity Fundraiser for Athens Drive High School
SweetFrog Frozen Yogurt, located on Tryon Road in Cary, hosted a fundraiser for Athens Drive High School on April 14th 2023. This fundraiser was designed to raise money for Athens Drive High School and to increase sales at sweetFrog.
"Whatever sales you guys brought in, we donated a portion of our sales to you guys," said Miranda Schanner, store manager at sweetFrog.
This is not the first sweetFrog fundraiser they have held. They are known to do fundraisers often for schools, clubs, churches, and other places nationwide at its many locations.
The main reason they do this is because sweetFrog as a company believes "Philanthropy and charitable giving are built into the sweetFrog model," according to sweetFrog Franchising.
SweetFrog does believe in charity; however, the company must still earn money, so they give away a portion of their earnings.
"This round we did 20% of our sales which earned you guys a little over 100 dollars," said Schanner.
These fundraisers prove to be a great benefit to both Athens and sweetFrog; however, there are special ways a store manager must prepare for the amount of people that attend an event like this.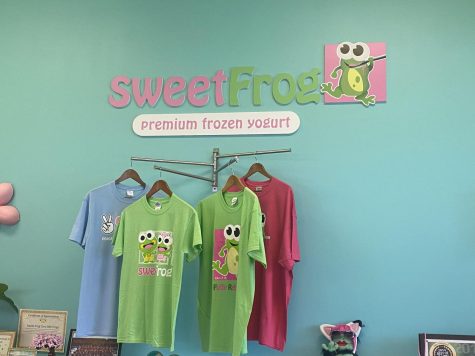 There is a good amount of work that must be done before a fundraiser like this can start, but in the end it can all be worth it for Athens and sweetFrog. 
 "Every week we put in what we call a shipment so it's all the product we sell so we just have to organize and decide how much we are going to order for the turnout," said Schanner.