Winter pep rally hypes up students for upcoming coming home game
The Athens Drive 'Happy holidays' pep rally was held Friday, December 16, 2022, to raise school spirit before a quad-basketball game. While everyone was walking in, finding friends and a place to sit, the Athens drive band played songs like 'Sweet Caroline,' 'Buttercup' and 'Christmas Melody'. 
The varsity cheerleaders had a performance right after the national anthem was sung. The introduction of spring sports consisted of the walk-in of the varsity swim and wrestling teams. Shortly after, the crowd was cheering for the Athens Drive dance team while they danced. The team kept performing even when the music experienced a malfunction. 
The roaring crowd indicated the rise in school spirit. The step team then had a performance and the gym was full of screams and cheers once they finished. Students and staff claim the step team slayed their performance.
People volunteered to have a table surfing competition; this is when students roll while an upsidedown table has to be rolled across the gym on the people. The teams were juniors vs. seniors and the seniors took the cake as a result of the competition. 
"The last pep rally was really great because everyone was laughing together over table surfing. I also like how they are student focused and try to get us active," said KB Cornell, junior.
Soon after came the walk-ins of our varsity basketball teams. The women's basketball team walked in, the gym went dark and they posed. The men's varsity team followed after them and they started the game of knockout that went on until the end of the pep rally. Staff, varsity basketball players, cheerleaders, and students played against each other until the end of the day when the basketball teams would stay after and prepare for the quad basketball game.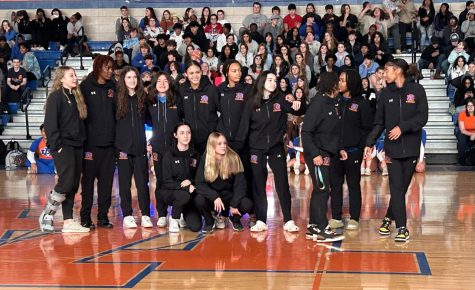 "I love the pep rallies at Athens! It always gets everyone in a great mood and the school feels really connected," said Cornell.