College Application Week provides many opportunities for seniors submitting applications
Hang on for a minute...we're trying to find some more stories you might like.
College Application Week, sponsored by the College Foundation of NC, spanned from November 6- 17 here at Athens Drive. This event included a multitude of events that encouraged students to apply to colleges and aid them in the application process. During this time period, college application fees to many North Carolina schools were waived, including Campbell University, Davidson College, NC Central University and 34 more.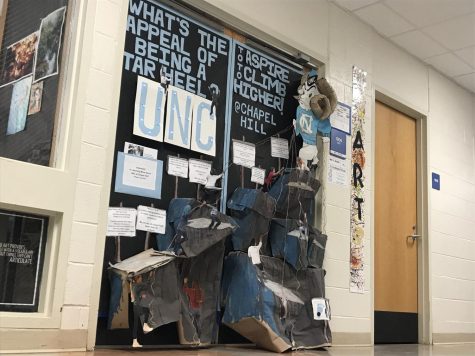 Daily college trivia questions through the week gave students an opportunity to learn about the NC school system, as well as compete for prizes that the PTA donated. The teachers were encouraged to wear college apparel, as well as decorate their doors with the colors of their alma mater. The doors were judged on Nov. 10 on the basis of information, creativity and team spirit. First place was awarded to Elizabeth Luna, graphic design teacher, and runner-up went to Farrall Hilton, art teacher.
"Mrs.Hilton and I are in competition, so I thought if I went 3D and big I could win," said Luna, whose entrance to the classroom boasted a large display reflecting her passion for the NC State Wolfpack.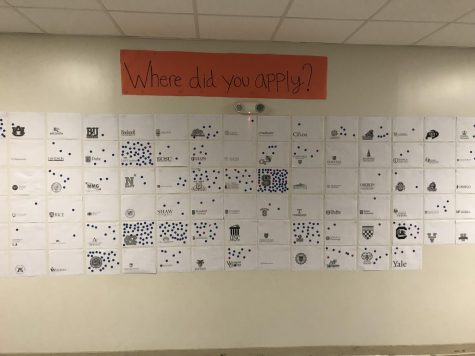 Staff also put up a, "Where Did You Apply?", wall near the front of the school, listing most schools in NC and many other schools students apply to. During their English or Civics classes, many seniors came to the wall and placed a sticker on each sheet containing a school they applied to. This became a visual of all of the exciting places that Athens students may end up next year.
Throughout the week, students had daily access to help with their applications from their counselors via the office of Melonie Carlton, career development coordinator. In addition, William Peace University, Fayetteville State University, Wake Tech and NC Wesleyan were all on campus to meet with prospective students and share information about their institutes.
The spirit of College Application Week wrapped up with College Shirt Day Friday Nov. 17, urging students and staff to support their favorite college or university. The counselors gathered outside of Student Services at the end of the day to answer any questions students had about college to ensure that every ADHS student can put their best work forward.
"We wanted to raise awareness of the excellent college choices of North Carolina," said Dean Wright, Athens Drive Counselor.