People who practice taekwondo, want to work better in their own ways to gain self-confidence and have better mental health. Taekwondo inspires people to try taekwondo. At Athens Drive, Senior Janet Alcantara is both a student and an instructor of Taekwondo.
Taekwondo originated in South Korea in the 1940s, created by Choi Hong Hi. Choi was born in Hwadae, North Korea. Choi was a general in the South Korean army and later on, became an instructor who trained the whole South Korean army in taekwondo. In the 1990s and 2000s, Taekwondo was primarily developed as a form of self-defense martial art. However, over time, its significance has grown and it now holds meaning for people across the globe.
"Mind opening, some things can go your way as planned, and well some things can go bad but it depends on how you treat the art of Taekwondo," said Janet Alcantara, taekwondo instructor and senior at Athens. 
Alcantara has been doing taekwondo since the 6th grade. She didn't have an interest in taekwondo because she was scared of people she would meet. After seeing her brother take taekwondo,  Alcantara was inspired to try it. Ever since then, she has progressed over time, taekwondo has become a huge part of her life. Alcantara has seen taekwondo maintain its popularity as a martial art since its rise, remaining a favorite today.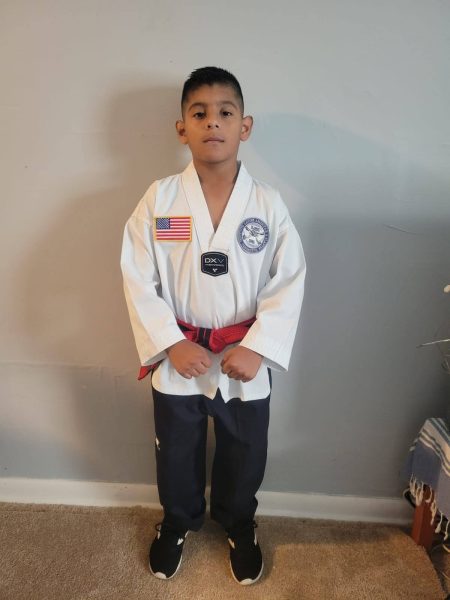 "As I saw my brother I thought why not try it now and so I said yes to my parents finally," said Alcantara.
While progressing in taekwondo, student's skills are constantly challenged. Alcantara was experiencing this. At the beginning of Alcantara's journey, it was enjoyable for her as she was learning new things. However, as time passed and she progressed to higher belt levels, her master started challenging her even more. The training was aimed at improving her abilities and introducing her to new, more challenging concepts. As she grew more, she was promoted to instructor.
"In the beginning, I thought of it as a game, but ever since I became an instructor, I realized that this could be life-changing," said Alcantara.
Being a taekwondo instructor requires Alcantara to make sacrifices. She has to teach two classes from 6 p.m. to 8 p.m. and then attend a training session with her master and fellow classmates. Alcantara understands the importance of staying focused and setting boundaries while teaching to ensure that her students learn effectively.
"It can be hard because I have to focus on doing homework after school but also having to teach classes, it can be hard but I make sure to put all my effort into it," said Alcantara. 
 She also has to balance attending school, completing her homework, and going to taekwondo classes, leaving her with very little free time. However, Alcantara finds teaching kids and imparting knowledge to them to be a fulfilling experience.
"I have to teach the kids so they can progress over time because as an instructor it is my job to make sure to teach everyone well," said Alcantara.
After extensive training and coaching, Alcantara can see herself continuing to practice and teach taekwondo. Taekwondo holds a special place in her heart since the time she first joined. Initially, she was unsure if she would continue, but she persevered and went on to participate in competitions. Winning or losing, every experience helped her to find her true calling in life. Being a student and now an instructor has been an incredibly rewarding experience for her. Alcantara cannot imagine where she would be today if she hadn't said yes to taekwondo.
"I want to keep on doing Taekwondo and then once I move to Mexico, I plan on opening up a school to teach the kids self-defense, discipline, and maybe even English, " said Alcantara.