A look into Computer Science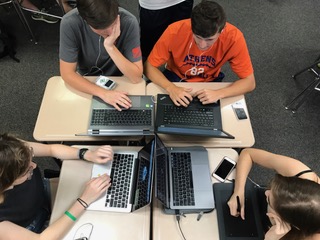 Hang on for a minute...we're trying to find some more stories you might like.
Captions:
Senior Bryce Rooney makes code for his end of year project

Seniors Neeva Young and Sam Enders help each other look for coding errors.

Students work diligently on their code.

Senior Bryce Rooney sits alone to focus on his work.

Seniors Brooke Spalding and Daniel Jacobs work together to crack the code.

Seniors Sam Enders, David Reynolds, Sophie Derosa and Sarah-Jessica Purcell work together to code video games.

Students create video games for their end of year project.

Computer science teacher Michael Wood grades students papers.

Senior Sophie Derosa writes out a problem on the board.

Senior Casey Lewis builds a robot with legos.