Unity day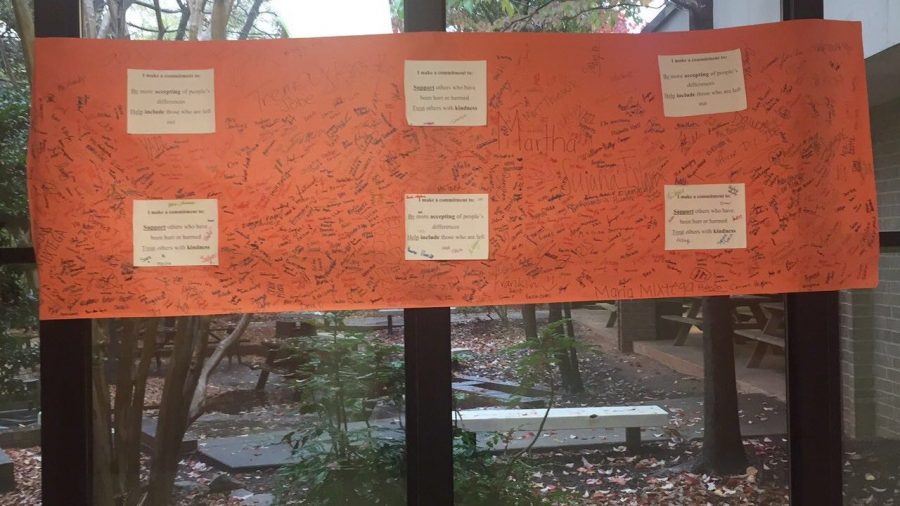 Unity day is Wednesday, Oct. 24. The Parent Advocacy Coalition for Educational Rights (PACER) national bullying prevention center started unity day in 2011.
To celebrate it teachers, students and people who have been affected or know others that have been affected wear orange in solidarity against bullying of any form. PACER was established in 1977 with a project called "Parents helping parents" a non profit with a goal primarily to educate parents with disabled children. Today PACER offers more than 30 programs for parents, students, professionals and other parent organizations, the original philosophy of "parents helping parents" remains.
Unity day has gathered worldwide notoriety and support for shining a light on bullying and raising more awareness for it. PACER's campaign was supported by corporations including: CustomInk, Disney, Facebook, Frito-Lay, Galderma, Green Giant, and the TLC network. According to stopbullying.gov, bullying can affect everyone—those who are bullied, those who bully, and those who witness bullying. Bullying is linked to many negative outcomes including impacts on mental health, substance use and suicide. Suicide is the third leading cause of death among young people, resulting in about 4,400 deaths per year, according to the CDC.
According to Yale studies, bully victims are between two to nine times more likely to consider suicide than non-victims; all of this is brought to light on unity day.
"In my opinion bullying has a huge emotional effect on students, no matter the age. I can remember times from my childhood (over 20 years ago) where I was bullied. It has a lasting effect on someone and it should not be taken lightly. I would also say that the one who is bullying also speaks for themselves. Often times the one who is bullying has something big going on in their life that causes them to bully others. I think all sides of bullying point to larger issues in someone's life," said Rachel Shelton, math teacher at Athens.
Unity day is more than just a day to wear orange clothing; it is a day that means alot to people who experience bullying. It is a great reminder that bullying still happens and that there needs to be an end. In our society today it is easy to hate others. However, if we realize we have more in common then we do different, there is no need for that hatred inside of us," said Shelton.
Many schools including our own celebrate unity day in an attempt to spread awareness.
"Athens celebrate unity day every year and teachers are given information about how to talk to students about bullying…I really appreciate how much schools are trying to focus on coming together and prevent bullying," said Emili Wallace, biology and forensics teacher at Athens.
In the past, bullying was primarily in the classroom environment but today, with technological advancements and social media, bullying can be more widespread and sometimes be done anonymously.
"I hear about a lot of bullying going on on social media. That is a hard ground for us in the education system to approach because we cannot see it for ourselves all the time," said Shelton.
Bullying can impact the way children's outlook on life.
"I think it can be pretty detrimental. Kids are developing and their environment can have serious impacts on how they process information in the future. I think the best way to prevent bullying is for every person to understand how our behavior affects others. Teachers and parents should be the first step in preventing bullying behavior," said Wallace.