Home decorating tips to make your room look cool
We all love our rooms but sometimes we just get sick of our old rooms and think it is time for a change. There are different themes or aesthetics for people to try out. If you need some tips, stick around for ideas to make your room look cooler and see which room fits you. 
If you want your room to have a trending aesthetic look you might want to include these:
LED lights 

Candles 

Fake plants 

Fairy lights 

A rug 
If you have an empty surface such as a desk or a night table, try to accessorize it by putting a lamp or a clock on it. Another tip is if you have an empty wall put something up like a mirror, tapestry, or a shelf.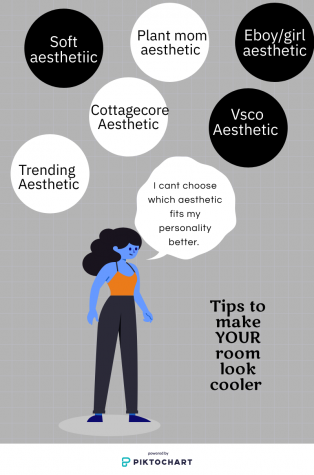 If you want your room to have more of a dark aesthetic you should try to add:
Guitar 

Skateboard 

Cd's 

Neon lights 
If you have an empty wall you might want to add a poster, the goal is to be able to have stuff so your room does not look empty. If you just add little trinkets here and there it will help to add "flavor" to your room. 
The next aesthetic would be a soft aesthetic look. Here are some items you might consider using:
Cd's 

Guitar 

Fake glasses 

Vinyl record player

Cute toys 

Light colors 
You might want to try a vsco girl/boy aesthetic. To do this you might want to have these laying around.
Scrunchies

Hydro flasks

Polaroid camera

Fjallraven Kanken backpack 
An item you might want to also use to have the vsco girl look would be fairy lights or make a cool collage of polaroids to hang up on your wall. 
Next is a cottage core aesthetic which is more of a dreamy aesthetic. You want to use more neutral colors to have the cattagecore look. In your room, you will also want to include
Floral print

Lace pattern 

Ribbons

Petals 

Real plants
You are aiming for an old fashion look with a touch of nature and spooky. So you can put some light yellow flowers in a vase or put some old-looking books on a nightstand, like before, the whole aesthetic like more of a 1900's vibe.
Another fun aesthetic would be a vaporwave aesthetic. To sum up this aesthetic you want dark neon colors. Vaporwave is very loud because of all the colors being used, common colors are pink, blue, and purple. So, if you want a vaporwave room use include these kinds of items, 
Neon colors 

Everything colorful

Hippy items 
If you want something on your wall try hanging up some CDs. Some neon sign ideas could be hearts or quotes. The goal of this aesthetic is you want as many colorful objects as possible, but make it so it doesn't match or look good at all. Another tip is to use colors that go together. Example: Pink and blue look good together but the colors orange and purple don't look so good together. 
Hopefully, these tips helped you make your room the way you imagined it. Remember to start small and add items along the way so it does not come out the way you wanted it. Try out some new things and try to figure out which aesthetic is right for you.