Quarantine brings out unique, creative ideas for reducing boredom, staying busy
Wake County schools have been closed due to the coronavirus pandemic for over a month, leaving thousands of students bored at home and constantly looking for something else to do during quarantine. There are various other activities to do besides playing the same board game for what may seem like the hundredth time since quarantine began. Quarantine has brought out many family's creative sides in times of boredom.
Although the CDC advised people to stay home as much as possible during the pandemic, there are still ways to get in touch and contact friends and family without leaving the house. Sites like Zoom, Google Hangouts Meet and Skype are video conferencing sites that allow someone to see and speak to multiple other people at a time. Adults and teenagers have gotten creative with these sites, and some have thrown virtual birthday parties during quarantine. Others have held themed dinners with friends, like dressing up as characters from their favorite TV show or movie. Talking with people virtually is not the same as meeting up with people in person, but it ma
y provide some relief to those who feel lonely during quarantine. 
"I really miss going out to eat and hanging out with my friends, so that's what I'm looking forward to. It will be fun to spend some quality time together and catch up," said Heeba Shaikh, junior at Athens Drive. 
Another way students are staying busy during quarantine is by supporting some of their favorite musical artists. Many events have been cancelled due to the coronavirus pandemic, but musical artists have been performing virtual concerts on platforms such as Youtube, Facebook and Instagram. Many artists had to cancel concerts and tours due to the pandemic, but their fans can still show their support and enjoy a live experience virtually, while they are safe at home. 
Along with all of the new activities to participate in during quarantine, people can still choose to spend their time doing leisurely activities they may not have had the time to do before the pandemic.
"During quarantine I have been reading a bit and organizing my room. Before quarantine, I didn't read a lot, but now I've had the chance to pick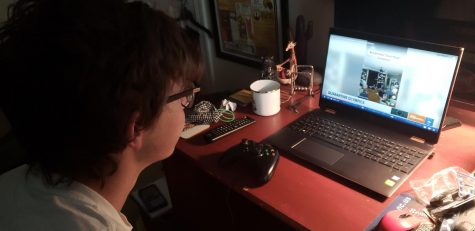 up a book because I've had extreme boredom," said Stephen Sandor, junior at Athens Drive.
One family from North Carolina chose to combat their boredom and the postponement of the 2020 Olympics by creating their own 'Quarantine Olympics' which they filmed and posted on the app TikTok. The events included games like "Toilet Paper Dodgeball" and "The Straw Challenge." Other families have participated by playing some of the 'Quarantine Olympics' games or making their own. 
For those who want to relax more during quarantine but still "hang out" with friends, Netflix Party may be a good option. Netflix Party is a Google Chrome extension that allows people to chat and watch netflix simultaneously. While watching a movie or show, friends can type in a chat box next to Netflix. This allows people to interact with others while relaxing and watching a movie. Movie nights for friends will not have to end because of quarantine.
Quarantine has given many people a lot of free time, but there are unique ways to spend time, as well as more time to be creative and make new activities. Through this tough time, it is important for people to stay busy no matter what they do with their time, but there are always new ways to alleviate someone's boredom during quarantine.
"I miss going out to eat and seeing friends. I'm looking forward to seeing my friends after quarantine," said Sandor.