The Special Ed prom highlights inclusivity for students
Athens Drive hosted a prom for the special education students April 29. This prom took place during the school day for all special education students to enjoy.
Prom is a big part of high school that so many students look forward to once the time comes.
"We would love to be able to attend prom, but it is an extracurricular activity, so not everyone would be able to attend. Having our own prom would mean that everyone would be able to attend," said Sheila Nedoma, special education teacher.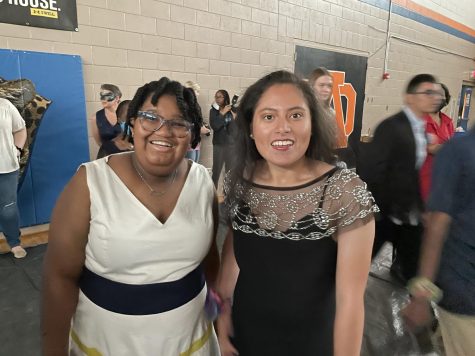 Their prom was held from 10 a.m. to 12 p.m. Donning paper corsages and boutonnieres, students entered the gym full of excitement. A group associated with Phillips High School was invited to come to prom as well. When the students entered the school to go into the gym, everyone lined the halls to cheer them on.
"And next up…" an announcer called as each student entered the gym. Each of the students had their name called as they walked into the gym, so that each student felt included at the event. The rest of the day was filled with music and dancing.
The Best Buddies club is one group that helped out with prom by dancing and hanging out with the students. The Best Buddies club is a club that often helps out and spends time with the special education students. This is one of the first in-person activities that the club has had since the pandemic started in 2020.
"The new schedule and coming back online has been a struggle for the club. Pre-Covid we would do crafts, dance parties, and participate in the Special Olympics. This year we have tried lunch dates and did a few crafts, hopefully next year we can work out a better schedule that works for everyone," said Zoee Stewart, junior, member of Best Buddies club.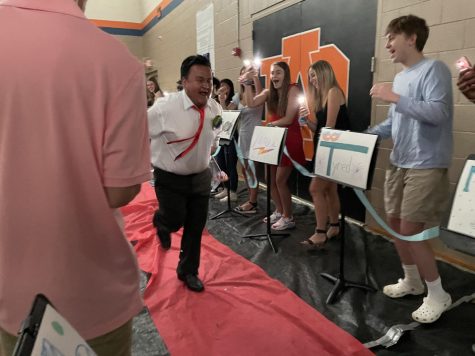 Another club that is helping out with prom is PEPI (Physical Education Pupil Instructor). This is a club run by Cyrene Hardy, a physical education teacher. The members of this club are juniors and seniors who help teach PE to special education students. All year long they have been teaching them sports such as volleyball, basketball, kickball, and many more.
"Mrs. Nedoma felt like it was important to include them in the prom because of this social bond they share with them. To celebrate another year and have some fun with them," said Hardy.
"Prom is about music and dancing," students from Nedoma's class explained.
Most students in Nedoma's class didn't think they would ever be able to experience prom and were excited they got the chance to.
"We felt the need to have our own prom because prom is associated with high school and we wanted our students to have the same high school experience as everyone else," said Nedoma.