Athens Drive takes on prom obstacles through the Cinderella Project
As prom date draws nearer, students begin to search for what to wear. Many are left disappointed when finding absurd price tag after price tag; the amount of money they have to spend quickly escalates. As a typical prom dress has risen to a price of three hundred to seven hundred dollars alone, prom costs have become a challenge for those who want to experience a magical night to remember. Athens Drive took this problem head-on by providing free prom apparel to any and all students in a program known as the Cinderella Project.
The Cinderella Project wouldn't be possible without the involvement of students and teachers. Dedication to this project has resulted in the collection of hundreds of dresses and suits. Some students even take measures such as gathering un-used prom wear from their neighborhoods. After the process of collection, students set up the project in the Athens Drive Community Library.
"We spend an hour or two after school [to] set up all the clothing, jewelry, and shoes by size [and] style. Our goal is to have outings for everyone," said Lewis.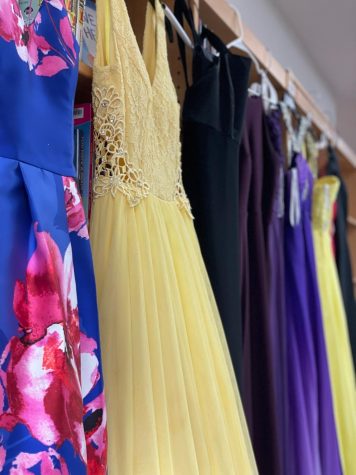 The Cinderella Project offered students everything from shoes and jewelry to suits and dresses. Teachers and students alike feel that offering these free resources is key to the inclusivity of prom.
"Prom is to me is one of those things that you need to go to at least once in your high school career it's just a right of passage…we don't want the fact that you can't afford a dress to hold you back," said Christopher Remaley, the teacher in charge of the project.
For many teens, prom is not just one dance but a monumental high school event, something to look back on for years. As they get older, prom can serve as a coming-of-age story for the next chapters of their lives.
"It's something that almost every kid dreams of since the age of five and every movie growing up was about. The reality of [the] costs don't sink in until the event is upon you and with that comes the realizing that you can't afford all the top-notch things you dreamed of," said Kayla Lewis, a senior who helped to organize the Cinderella Project.
Students argue that the Cinderella Project helped to change the way prom-goers think about their clothes. As the average student will spend one thousand dollars on prom, many teens believe expensive apparel is often seen as more desirable, but the project is proving otherwise and allowing students to be open-minded against the stigmas of cheap and free clothes.
"A lot of people look down on [others] who go to thrift stores… if you're struggling financially it can be very beneficial to buy things for free… especially considering prom tickets are expensive on their own," said Bex Salahat, sophomore.
As prom-goers widely view it, the Cinderella Project has given students an enthusiastic outlook as they prepare for prom, not having to worry about every last detail of what they will wear.
"It's affected [students] in a positive way, we've had dozens of people come through this morning already… excited and energetic about the fact that they got a dress and they are ready to go to prom," said Remaley.
There are other projects nationwide that work towards similar goals to the Cinderella Project, such as Cinderella's Closet USA an organization that has locations in numerous states across America.
"[Students] are greeted with an environment of grace, love, and respect. It is our mission that they leave knowing they are cherished," said Erin Peterson, the Founder and Director of Cinderella's Closet USA.
For the community of Athens, there is no doubt that the Cinderella Project has helped students as they look to a successful and inviting prom of 2022, with no student left to dwell on unnecessary costs.
"There are many ways the project has been able to help people afford their dream night. Everyone deserves a chance to feel amazing and money should never be the reason someone can't," said Lewis.