Movie Review: Last Christmas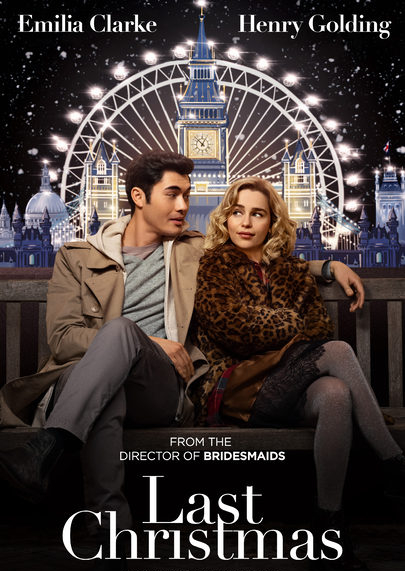 Last Christmas, I gave you a movie review, and the very next day you read it all the way. 2019, Universal Studios blessed us with the Christmas rom-com "Last Christmas."
The film is about Kate Andrich who is somewhere in her twenties. The character is played by Emilia Clarke, and throughout the movie, she navigates the holiday season working as an elf at a Christmas store. She battles obstacles of family issues, health issues and love.
This movie is not afraid to bring light to issues such as discrimination, poverty, mental struggles and the struggles of having disabilities. But do not let that fool you, they still manage to keep the Christmas spirit with you as they bring romance into the movie with Tom Webster, who is played by the actor Henry Golding. Tom teaches Kate to help others out, and ultimately helps her on her journey to become a better person.
Romantic scenes between them singing the George Michael track Heal the Pain and other songs such as Everything She Wants, Praying for Time and of course, Last Christmas. 
Though the merry music can be uplifting, this rom-com packs a punch with dramatic twists and turns. We learn about Kate's heart transplant that happened the previous Christmas and how it had affected her mental health long after her physical health had recovered. It was such an astounding performance, so much so that I forgot I was watching a movie and not a real story.
Speaking of astounding performances, Henry Golding did an amazing job of making us fall in love with his character Tom, and breaking our hearts with a surprise twist at the end. We do not learn much about Tom's past, but we learn that Kate's family is from Yugoslavia, but had to flee because of the war. We see throughout the movie Kate and her family speak their native language of Serbo-Croatian. 
In full honesty, there are a few scenes that may be a bit awkward to watch with family. But it is rated PG-13 so if your family has a sense of humor, you should be fine. 
Watch out for surprise guests such as Sue Perkins, who is the host of The Great British Baking Show  and, though I never found him, Harry Holland was cast as an extra on one scene. In case you do not know who he is, Harry Holland is the brother of Tom Holland  (Spider-Man) and is also working on building his career as an actor.
For me, this movie became an instant classic and went from an oh-yeah-I've-heard-of-that film to a movie-marathon-must-have. It's good to put on in the background of a holiday party, or to sit down and really watch. This movie held my interest throughout the whole way and really stuck true to the meaning of the song Last Christmas. It made me laugh, It made me cry, It made me go "I wish I had someone like that." If you ever get the chance to watch this movie, I would definitely recommend it.