Taylor Swift plans to release re-recordings of past music
Starting With "Fearless (Taylor's Version)"
March 10, 2021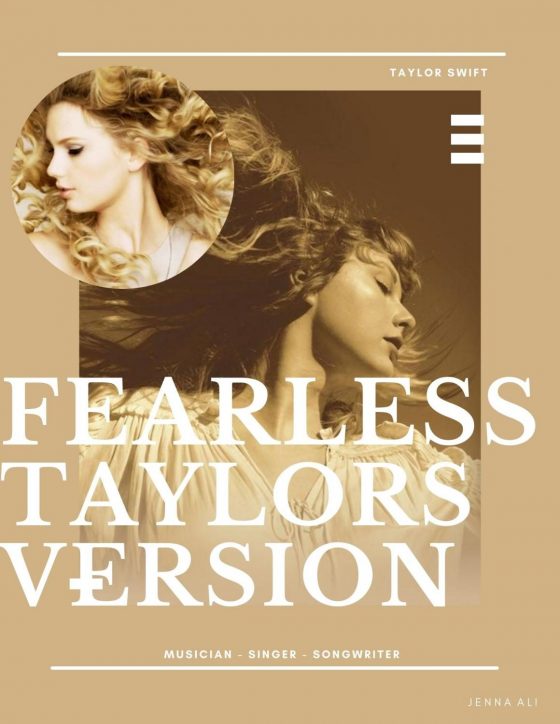 Photos by Jenna
Singer-songwriter Taylor Swift will be releasing a re-recorded version of her album "Fearless" April 9, 2021. The album was originally released 13 years ago in 2008 and featured sensations like "Love Story" and "You Belong With Me." It gained the label of  "most awarded country album of all time" from Billboard Charts. Swift's re-recorded version of the album will be titled "Fearless (Taylor's Version)" and will include 26 songs, six of which did not make the original album. 
"This process has been more fulfilling and emotional than I could've imagined. It has made me ever more determined to re-record all of my music,"  Swift said, via Twitter.
Taylor Swift's music career started back in 2004 when she was 14 years old. She was signed to Sony Music as a songwriter. In 2006, going on 16, she landed a deal with Big Machine Records. She went on to release six multi-platinum albums under the company, including "1989," which marked her transition from country to pop music. Swift was under the management of Big Machine Records for the majority of her career, until 2018 when she parted from the record label. 
Her decision to re-record her catalog was made following a controversy regarding the rights and masters of her past music. In 2019, Big Machine Records was purchased by music executive Scooter Braun in a $300 million deal. They held the ownership of every album Swift made before 2019's "Lover." She was not given the chance to purchase her music before the deal was made. The musician and her supporters were upset with the news and publicly protested it on social media.
"Scooter has stripped me of my life's work. My musical legacy is about to lie in the hands of someone who tried to dismantle it. This is my worst-case scenario," Swift said, via Tumbler, when the news broke out.
The ownership of Swift's past music has since been sold to Shamrock Capital. Swift was offered a deal with the company, but she turned it down on account of Braun's financial association. She had already decided to create complementing versions of her past music before the deal between Braun and Shamrock Capital was instated.
By re-recording her past music, Swift is taking back control of her past and future alike. Rallying her supporters to advocate for the new versions of her music, Swift is almost completely devaluing the original soundtracks. This is a brave way to deal with the hand she was dealt, and it has left her supporters empowered.  
"What Taylor is doing to prove a point is astounding. She isn't just reclaiming ownership of her music, she's building herself a money machine and showing young women worldwide that no one should take credit for your accomplishments," said Yasmine Arikat, sophomore.
Swift has already begun the process of reinstating her control over her attainments. "Love Story (Taylor's Version)" was released Feb. 12, debuting as the first released soundtrack of "Fearless (Taylor's Version)." 
"I hope you'll like this first outing as much as I liked traveling back in time to create it," Swift said.
To the musician and her supporters, the fight to reclaim her musical legacy was heartfelt. Swift shared the emotion behind the original creation of her album.
"Fearless was an album full of magic and curiosity, the bliss and devastation of youth. It was the diary of the adventures and explorations of a teenage girl who was learning tiny lessons with every new crack in the facade of the fairytale ending she'd been shown in movies. I am thrilled to tell you that my new version of Fearless is done and will be with you soon," Swift said.