Socially distant hobbies, activities to try during COVID-19
Sean Herbst, Entertainment Assistant Editor
January 7, 2021
Although the COVID-19 pandemic put the world on hold, many people have been using it to pick up new hobbies that they previously would not have participated in. Hobbies such as golf, gardening, at-home workouts and arts and crafts are just a few of the countless activities that people are using to pass the time.
While golf has always been a prominent sport throughout the world, its popularity skyrocketed during the coronavirus pandemic. According to data from Golf Datatech, the number of rounds played in August of 2020 was up 20.6% compared to the number of rounds played in 2019. Along with this, through the first four months of 2020, the golf market was down about 18% but has climbed back into positive numbers and is sitting at about 6% up for the year (expected to rise to about 8% by the end of 2020.)
The reason that golf has become so popular during the pandemic is because players are able to stay socially distanced during their rounds as it is an individual sport, and participants can walk separated from each other or drive their own carts. Golf courses are also taking extra precautions to minimize the spread of germs, such as by removing rakes from bunkers, no golf ball washers, not allowing for the sharing of equipment, flagsticks remaining in the golf holes and even flipping the cup upside down or putting a noodle inside the hole to keep the golf ball above the rim of the hole.
"Golf has allowed for a get away from all the craziness that goes along with COVID and it lets me to get outside and enjoy myself. There are a few regulations that help me stay safe out on the course but it is still refreshing," said Josh Burkhardt, senior.
Along with golf, at-home workouts have increased in popularity significantly. People are taking advantage of quarantine as a time to better their physical health. COVID workouts allow those who participate to maintain/improve their physical fitness all from the safety of their home without the risk of spreading the virus. In-home workouts are not only compatible to those who have workout equipment at home. Nowadays, technology is a great resource that people could use to look up bodyweight and low weight workouts, while still achieving desired results. Many people used quarantine to lose weight, setting goals month by month which assisted in keeping them focused. According to a survey conducted by Beachbody, nine out of 10 Americans will continue to partake in at-home workouts even as gyms open back up.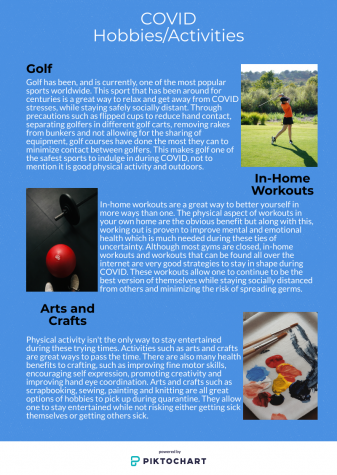 "Whether it be for 10 minutes or a full hour-long routine, there is something very gratifying about discovering the convenience of just rolling out of bed, enjoying a pre-workout drink, and immediately pushing 'Play' on a workout of your choice," said Carl Daikeler, CEO of the Beachbody Co. to Fortune.
Other hobbies have also been taken up due to quarantine such as arts and crafts. These activities have been a much-needed relief to heavy screen time caused by the lockdown. "Hobbycraft," the United Kingdom's biggest craft supplier, has seen a big jump in online searches for knitting, sewing and scrapbooking tutorials. Activities such as these engage one's mind well in a time in which social interaction is at a critical low point and face-to-face education is nearly non-existent. 
"Arts and crafts have given me and my family a way to entertain ourselves safely without risking our health or anyone else's health. Along with this, it's a nice relief from the daily repetitiveness of waking up, sitting at home on our phones or in front of our TV's and going to sleep," said Katelyn Harris, senior.
Although COVID-19 has put our lives on pause for the most part, it is still possible to make the most of our time, whether it be physical activity, mentally engaging activities or just leisure activities. Taking time to better yourself, no matter the circumstances, is important during these essential times.
"Throughout COVID, I have worked on myself in multiple ways including weight lifting and working on my foot skills so that I am physically fit when soccer returns. Although it has been really different, I think it is important that I continued to improve during these trying times," said Zach Peterman, senior.