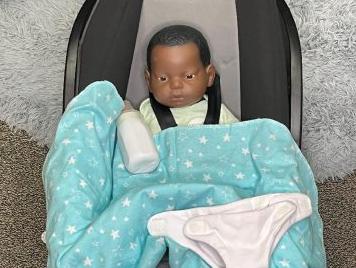 Rebekah Marsh, a child development teacher at Athens Drive High School, gives high school students the opportunity to learn about children and how they develop. The child development class also allows students to experience what it's like to be a parent.
"I love talking about labor and delivery and like the whole pregnancy, prenatal, but then I love teaching about the way children grow and looking at the brain,"  said Marsh.
Students have the opportunity in child development to re-experience childhood through class activities while being  in high school.
"I relived my childhood a lot when we would watch movies such as Inside Out. It took me back to an enjoyable time in my life while also being able to see what we were learning about in a movie," said Kierra Moore, student at Athens Drive.
The child development class is unique when compared to other classes. Instead of sitting in a classroom reading or writing notes, students can get real hands-on experience by learning about the way children develop through experimenting with childhood toys.
"Some good things about the class was being able to play with Magna tiles, books, and play dough," said Moore.
Many students feel that they get to show off their creativity and learn new skills in the child development class through different activities.
"This one time, there was a day we drew on ziplock bags and then filled the bags with shaving gel, glitter, pipe cleaners, and pom pom balls," said Moore.
One unit from child development is taking care of the RealCare Baby. These babies are infants however each have their own schedule that mimic real babies at different months. 
According to This American Life, "The babies are programmed to mimic real babies, crying at seemingly random times all day and night."
Many students said that the RealCare Baby is terrifying and leaves them with traumatic experiences from hearing the cries of the baby days after being returned.
"I had recollections of hearing the baby cry for as long as I can remember. It felt as if I were reliving having the baby again, except it wasn't physically there, but the loud cries were stuck in my head," said Anayiah Lovett-Lane, student at Athens Drive.
As reported by This American Life the benefits of the RealCare babies  were meant reduce teen pregnancy, and give teens an idea of what early parenthood is like. This worldwide class has left many students not wanting children in the future.  
"It kinda made me not want to take care of a baby, I don't think I could do it again," said Moore.