National Honors Society brings healthy living to the Drive
In an age where technology is becoming a major part of our lives, one can forget to expand their horizons beyond the screen.
For the National Honors Society's annual service project, the club announced that they would host a health-and-lifestyle field day on March 11 from 10:00 a.m to 2:00 p.m at Williams Stadium. The event included informational booths to educate guests about maintaining a healthy way of life. Sparkling water, and nutritious snacks were offered at the door free of charge. It also featured activities such as sports competitions, games, educational presentations from local professions. For those less interested in sports, arts & crafts and mindfulness exercises were included. A raffle was held throughout the day for anyone to win a prize.
This event is meant to encourage healthful eating and exercise to Athens Drive Students and the community around them. It was the club's board members themselves who came up with the idea. They took notice of the community's decline in healthy habits and increase of scrolling through social media; along with less communication with their peers.
"They forget to get outside and do something active and it's just they noticed the need in the school community and so they decided to put together a bunch of different healthy [lifestyle] representative things in order to encourage better lifestyles for students," said Lauren Latta, Athens Drive teacher.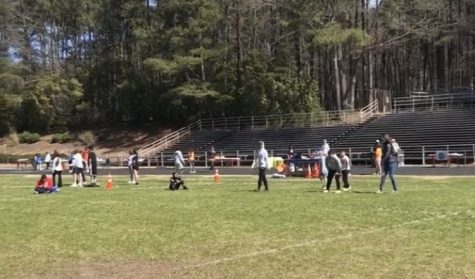 The field was filled with multiple games all throughout the day, including three-legged races, softball, soccer, potato bag races, capture the flag, cross the ocean, cornhole, water balloon games, and other fun activities to do with friends. Not only did they aim to have fun, they wanted to educate students, especially younger kids of elementary and middle school.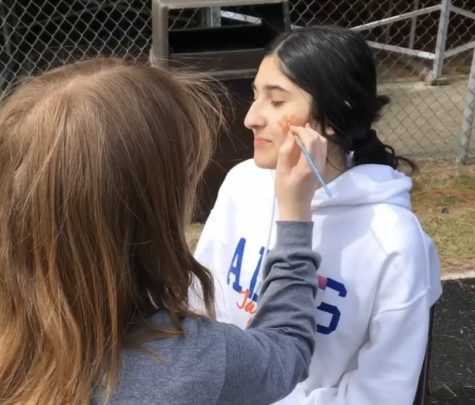 The numerous activities featured at this event were crucial in their goal to introduce their audience to new ideas and hobbies. Dance and yoga booths were also presented as an engaging form of exercise. Creative hobbies were presented by face painting and bracelet making, offered by Athen's National Art Honors Society. The National Honors Society took initiative to expand the horizons of the people in our local community.
"A lot of people don't have experiences unless they have the opportunity to have those experiences, so I was really looking forward to giving people the opportunity to try something new," said Latta.
However, for club advisors Mr. and Mrs. Latta, planning an event of this scale would prove to be difficult with no experience, especially when it required the collaboration of many different parties.
"It was just a lot of moving parts and a lot of people involved that had to be organized in order to do this so that was probably the biggest challenge," said Latta.
Tasks included getting donations from members, setting up, arranging people to run each booth, and reaching out to local health centers like Rex Hospital and Advance Community Health.
"Getting all the people like everything from here down to Williams and back the day of was just an undertaking," said Latta.
The board members had their hands full. It took a lot of time and commitment for them to arrange guests from the community to go to the event.
"We had to email a bunch of organizations and we had to deal with them not having the resources to come or scheduling conflicts, essentially just the communication aspect of it was pretty difficult," said Hailey Nguyen, senior.
Despite the worries and struggles behind the scenes, National Honors society managed to set everything straight in time. Even then, the National Honors society will use this experience to inspire more events like this in the future, and improve upon weaker aspects of the Field Day.
"Attendance could have been a bit better, but I know our advertising wasn't super there, but I think in general in terms of getting people outside of the house and to the events and what the event ended up being with all the booths and stuff was pretty good, I would say," said Nguyen.