How Turkish Teenagers were affected by the earthquake
A 7.8 magnitude earthquake hit Türkiye (formally Turkey), and Syria, February 6, 2023. The earthquake affected many Athens Drive students in numerous ways. The recent earthquake may have directly affected North Carolinians, sending shockwaves of emotion to us all.
"I'm from Syria, it affected my family … [all of] our families are over there and the Syrians have been suffering through a lot of stuff like hunger, coldness, and homelessness," said Aseel Alzoubi, Junior.
Although teenagers here at Athens Drive were not physically harmed, many were mentally affected by this disaster. Events that happen around students can make a huge impact on them. It can affect and sidetrack students from school life and grades can drop severely. 
This tragedy has distressed several students secondhand, and it's still important to the multiple students who have families that live in the affected areas.
 "My dad's side, my grandma, my uncles, my aunts, and their kids [are all located in the affected area] of them but [nobody] was affected," said Alzoubi.
At Athens Drive, many students want to give a helping hand to the people affected by this disaster. There are many ways we can help from here at Athens Drive.
"I feel like now it's our duty to help them out [by donating] everything we can, clothes, food, and money even if it's a small amount," continued Alzoubi.
The ravaged people overseas are in dire need after this massive earthquake and are receiving aid from multiple governments and regular people.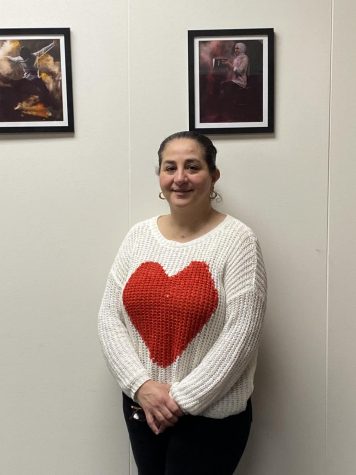 "I was born and raised in the United States, but I had a lot of family members … [that] still live overseas. It's heartbreaking because you want to help in [so many ways], so we try to help in other ways. We [can] help financially, and we send money to some charities," said Sue Triesh, Lead secretary of Athens Drive.
Triesh does not live in Türkiye or Syria, but is concerned for her family members overseas. People from around the world can be affected as humanitarians who want the best for others  despite not being from a place where such a tragic event like this occurs.
There are many ways for all of us to help the people affected by this tragic disaster in Türkiye and Syria. We can help them financially by donating money, clothing or food to help them recover. The people who went through this disaster and survived most likely lost their homes, and maybe even a person they knew.
"Earthquakes [are] caused by a transform boundary," said AP Environmental Science Teacher Tyler Latta.
A transform boundary is two plates that are too close to each other causing stress to build up. It is extremely common for an earthquake to happen as a result of a transform boundary but not on this scale.
Latta then continues "[The plates slip past each other during a transform boundary] and it kinda has a ripple effect similar to if you took a stick or something and you bent it really hard in your hands and you noticed as you bend it and it breaks and it kinda hurts your hands a little bit well earthquakes kinda work like that." 
The 7.8 magnitude earthquake in Türkiye left catastrophic damage to buildings and sadly, the people that lived in them. There has been a confirmed number of over 7,900 casualties and tens of thousands were left injured.  
"That's what happened in Turkey and this time it led to some pretty terrible loss of life," said Latta.
View Comments(1)