Success and stability are possible for everyone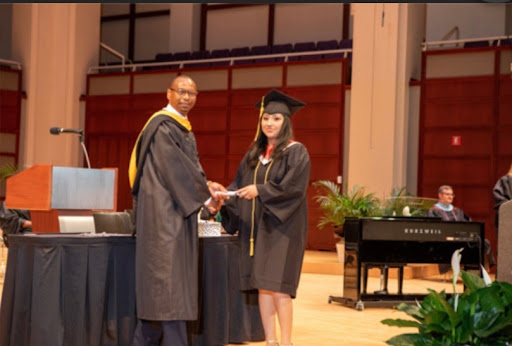 Uncertainty about life after high school is rampant for students everywhere. The anxieties vastly differ from person to person but, nonetheless, aren't enjoyable and add unnecessary stress. In those moments it's hard to focus on one day at a time. Success and stability have different meanings for different people and are most definitely not linear. 
There are different paths to success besides the 4-year college one. So why not look at a few real-world examples that include a little bit of everything?
Aretha Williams grew up below the poverty line and in a single-parent household, raised by a loving mom who worked at hospitals and cleaned condos. Even in less fortunate circumstances, Williams knew she wanted to attend university. In high school, Williams recalls getting decent grades and after a few college tours provided by her high school, she decided on Florida A&M University. After being accepted, Williams had a part-time turned full-time job to help pay for school. To manage this, she remembers reading and studying while on the bus to work and during breaks. This full-time job Williams recalls took a hit to her GPA going from around a 3.8 to a 2.3.
Even though this might've been looked at as a setback, she is now a Florida A&M University graduate with a bachelor's in science degree in business economics.
"When you go off to school you think you want to major in one thing and then you figure out it's not the way you want to go, and I was one of those people," said Williams, who initially wanted to major in biology. 
Williams also recalls enjoying her experience at university and believed it helped her become more independent because there was no one to remind her to do anything, she had to make her own choices and then deal with the consequences. 
Williams is now the owner of a beauty salon, and believes the degree she got at university isn't necessary for the job she has now, but that it gave her good insight on finances. With her current job, she is able to enjoy control of her own schedule. Williams is currently back in school at community college for project management. 
"Be more patient with yourself, don't try to rush through everything, and enjoy the small moments", said Williams when asked what she would tell her younger self. 
Jonatan Ricardo Garcia Granados, affectionately known as Ricky, graduated from Athens Drive High School. Garcia recalls struggling a bit with high school partly because of having ADHD, but nevertheless graduated with a 3.4 weighted and around a 3.0 unweighted GPA. He also participated in mthe arching band his freshman year and played on the soccer team from his Junior  to Senior year. After graduating, Garcia went on to attend Wake Tech Community College for 2 years, he recalls choosing Wake Tech because he was unsure of what he wanted to do after high school and didn't want to risk wasting money.
Garcia remembers enjoying his experience at Wake Tech and even played for their soccer team. He also appreciated the smaller class sizes and teachers knowing students by first name bases. Looking back on community college he struggled due to his strong focus on making a professional career out of soccer. Another factor being dealing with ADHD, which Garcia remembers managing by separating himself from environments where he couldn't focus, such as going to a Starbucks instead of being at home.
"I tried to have a set schedule, if I didn't have that I felt like my whole day was out of whack and I felt like I didn't know what I was doing", said Garcia.
Nevertheless, he left Wake Tech with a 3.0 GPA and decided to transfer to UNCW partially by influence of his older brother who also attended UNCW. Garcia did have backups, which included NC State and ECU, and remembers the transferring process as not being difficult due to Wake Tech preparing students for a 4 year university.
Garcia graduated from the University of North Carolina at Wilmington with a bbachelor'sin science in business administration with a concentration in accounting. He chose his major after picking up the material in an accounting class at Wake Tech pretty quickly. Garcia feels the degree he got at university is necessary for the job he has now and is currently a staff accountant for a company focused on biopharmaceutical consulting, called Sequence. 
"Don't let fear get in the way of what you want to achieve, and don't let your parents scare you into doing something you don't want to do",said Garcia when asked what advice he would give to his younger self.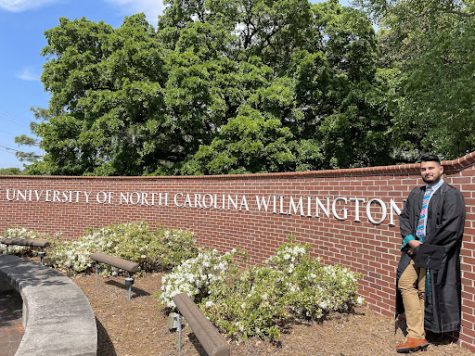 Jennifer Velasquez Escobar is a first generation American and the first child in her family to attend university. Growing up in a family with 5 kids including herself, Velasquez recalls not getting what other kids would have such as new phones, nice shoes, or brand clothes. As she got older she realized if she wanted something she had to work for it. In high school, Velasquez believes she didn't reach her full potential but knew she wanted to pursue a higher form of education and earn some kind of credential. 
After graduating high school, she, unfortunately, dealt with an illness that prevented her from immediately jumping into the university setting. Velasquez sseesit in a positive light because it helped her realize what she really wanted to do and that this time if she was going to be using her money, she was going to try harder. Although Velasquez initially wanted to attend Wake Tech, being first gen and with no one to guide her through the application process she ended up registering late. With classes on different campuses and schedules not lining up, things weren't working out. So, when she found ECPI and looked at their schedules and classes, she realized she had found the right school for her. 
"I wanted to work with patients and have some type of involvement in their care, so being a registered medical assistant gets me in the clinical field and able to interact with patients, being able to take vital signs which I always thought was interesting, like when I was younger and would go to the pediatrician", said Velasquez.  
Velasquez recalls her experience at ECPI being good, with her teachers being overall helpful and resources for emotional support is available on campus. She also held a job down to help pay for small bills she had. Work was done by 6:30pm and she used her remaining time to study and do homework. Velasquez remembers feeling stressed, but having a planner where she would plan and write down what was due helped her tremendously.  This hard work and dedication paid off as Velasquez graduated with a 4.0 GPA. Velasquez graduated with an associates degree in medical assisting. Soon after, she took a test to then earn the title of a registered medical assistant.
Currently working in an OB-GYN clinic, she believes her degree was necessary for the job she has and enjoys her job's ability to level up in certain aspects such as becoming an RN.
"I should've maybe just gone for RN but I also didn't want to waste time and now I actually have a feel of the medical area, so honestly I think I made a good decision, it's not a bad job for my "first big girl job" because I'm able to afford things I couldn't before", said Velasquez. 
Elvia Escobar was born in the countryside of Guatemala with 4 other siblings, and was only able to attend elementary school for 2 ½ years before she began working at the age of 10.
"I am a person who comes from the countryside, I did not have a long education but everything I learned as a child helped me a lot to work with discipline and have goals." said Escobar. 
Escobar learned from a very young age to be independent and to make things work no matter how impossible it seemed. At just 17 years old she had her first child and at 20, her second. Not long after she became a single mother with 2 children living in a country where jobs were limited without the correct paperwork. 
Escobar recalls having a variety of jobs such as factory worker, a restaurant worker and house cleaner. These jobs all required hard physical labor day in and day out. At 27 years old with 4 children and being a single mom, sick days weren't an option if she wanted to keep a roof over her children's heads and food on the table. Eventually, after many years working for a house cleaning business, she began her very own business.
"My work experience added to my entrepreneurship because I learned discipline and learned things from different people so I was able to apply a little of everything when I started working as an independent", said Escobar.
Starting a self-owned business has always been looked at as a very difficult task to pull off successfully. The owner must manage all aspects of the business and on top of that do all the