Athens Drive varsity swim team kicks off a new season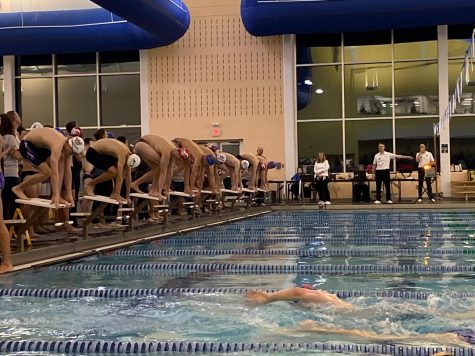 As the weather grows colder and most are donning their winter coats and long pants, the Athens Drive varsity swim team is doing things a little bit differently. They will be gearing up in their suits, caps and goggles for another season of competition, with hopes of repeating or bettering their finishes at the Conference, Regional and State championships.
The losses of a few seniors on the men's side, most notably Drew Hollett and David Wahlen, will provide the men an interesting challenge to overcome. Wahlen broke the state record and claimed the state title in the 100 backstroke at the 2019 NCHSAA 4A State Championships. He also led off Athens Drive's state record setting 200 medley relay in a time of 22.42 seconds. Hollett also played a crucial role for the Jaguars, competing and scoring points in the 100 and 200 freestyle along with the 200 and 400 freestyle relays, helping the men secure a fourth place finish. The pair continue their swimming and academic careers in college, Hollett at Tufts University and Wahlen and LSU.
"Everyone is older now, so that means we're all stronger and can step up to try and replace what David and Drew meant to us last year. We've got to rely on each other and the new freshman this year and hope that all the work we've put in can pay off for the team." said Daniel Baldwin, senior and team captain.
The women's team also enjoyed improvement and success, qualifying 20 swimmers for the 2019 NCHSAA 4A Regional Championships, the most Athens Drive has qualified in years. However, they did not qualify anyone for States, something they are working to do this year.
"There's always a goal to qualify for States. We have a very strong freshman class this year, which is absolutely amazing. I fully believe that with hard work in and out of practice that our girl's team can make States this year." said Tessa Buscher, Senior and Team Captain.
The men's team will rely on younger, up and coming swimmers to fill the holes left by the recently departed seniors. One in particular is Joey Bridgham, junior, who narrowly missed qualifying for States in the 100 butterfly and will be looking to avenge that this year.
"If I make it this year it would be really great, I would feel proud of myself for achieving that goal," said Bridgham.
The team will rely on leadership not only from Head Coach Shane Barry, but from team captains Daniel Baldwin, Ethan Finsel, Tessa Buscher and Mansi Sura. The captains lead the team every day in the pool and out. They host team dinners the day before every swim meet to carbo-load and bond as a team.
They also provide rides to practices after school for underclassmen. 
Through hard work in the pool, support for their teammates and leadership all around, the Athens Drive swim team hopes to build upon their success in recent seasons and keep improving.
"I like it (the team)  a lot. I will say we've got one of the best groups overall that we've maybe ever had, with a mix of experienced seniors and talented freshman, together I think we've got a great group," said Shane Barry, swim team coach.