Best places to go off campus for lunch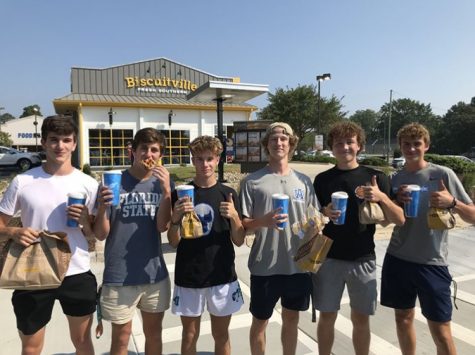 At Athens Drive, being able to go off campus for lunch is a luxury that many underclassmen look forward to. The ability to leave means that students have endless possibilities for lunch, ranging from Tropical Smoothie Cafe to McDonald's.
One of the more popular restaurants visited by ADHS students is Bojangles on Western Blvd. Bojangles is a southern-based fried chicken joint. Their specialty meal is the 4 piece chicken supreme dinner, which includes a biscuit, four chicken tenders, cajun fries and a drink of one's choice. Bojangles is relatively inexpensive, with most meals costing around six dollars. Bojangles is an eight minute drive from Athens Drive. 
"I like going to Bojangles. It's really close and I'd definitely say they have the best food out of anybody near here," said Mitchell Huggins, junior. 
Another popular chicken based restaurant is Chick-Fil-A, located in Crossroads Plaza. A popular feature with Chick-Fil-A is their mobile app, which allows students to order ahead and have their food already prepared when they arrive. As this restaurant is further away, ordering ahead allows to maximize the amount of time that students have to sit down at the restaurant. Chick Fil A meals range from about five dollars to eight dollars. Chick-Fil-A is around a nine minute drive from school and is typically more crowded than other places. 
One of the less-visited but still well-known restaurants on Western Blvd. is McDonald's. McDonald's is located right next to the Bojangles, which could contribute to the lack of visitors from Athens. McDonald's meals typically cost six to seven dollars, and is an eight minute drive away. 
Sonic Drive-in is one of the closest fast food joints to ADHS. At just five minutes away, Sonic combines both proximity and quality of food. A signature feature of Sonic is their ordering system, which includes both a drive-thru and drive-in parking spaces that you can purchase your food from and have it brought out. Sonic meals range from burgers to chicken, and are usually around eight dollars. 
Tropical Smoothie, located in Crossroads, has a wide range of flavors and ingredients for their smoothies, which range from five to six dollars. When combined with an entree, however, the smoothies are only a three dollar add on. Tropical Smoothie, like Chick-Fil-A, allows you to order ahead via their mobile app. This is valuable to high school students because it eliminates the five to ten minute wait at the restaurant waiting for your order to be ready. 
"I like Tropical Smoothie because there isn't any other place with good smoothies and their quesadillas are also really good," said Sam Bost, junior. 
Wendy's on Western Blvd. is most popular for their famous "4 for 4" meal, which includes an entree of your choice, small fries, four piece chicken nuggets and a small drink for four dollars. Another popular menu item is their Frosty, which is available in junior, small, medium and large size options. As a seven minute drive, Wendy's is the favorite fast-food restaurant to some students. 
The newest addition to Western Blvd. is Biscuitville, which opened Sept. 12. Biscuitville specializes in their signature biscuits, including chicken and sausage biscuits. Meals cost about 6 dollars and it is located six minutes away from ADHS. Several Athens Drive students showed up for the grand opening. 
"I was excited to be there the first day it was open and the food exceeded my expectations," said Huggins.