Abbey Wood, science teacher, is recognized as by Wake County, earning the Employee Excellence Award
Abbey Wood, National Board Certified Teachers (NBCT) and Science, Technology, Engineering and Math (STEM) Coordinator at Athens Drive, received an anonymous nomination and earned one of the 25 total Employee Excellence awards by the Wake County Public School system at the Board of Education meeting Dec. 21.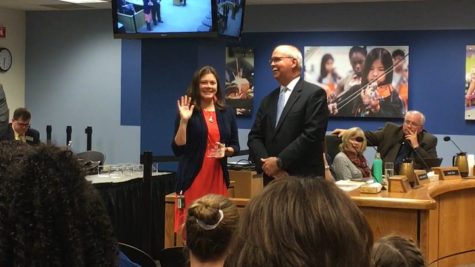 Wood teaches Chemistry and AP Biology along with Research Methods. Many students appreciate her engaging teaching style.
"I appreciate how Mrs. Wood has a lot of hands on and interactive learning based material instead of giving long lectures daily, and I am very proud of Mrs. Wood. she really deserved her award because she's dedicated to both her students and her job," said Khadijah, senior in AP Biology.
It has been several years since a staff member from Athens has won the award. This made Wood even more appreciative and surprised by the nomination.
"The last one that I knew of from Athens was actually when Mr. Wood won with Ms. Pappadake and Mr. Rushton," said Wood.
Wood spoke about her favorite aspects of being a teacher.
"I like being able to get to know students and see what makes them who they are," said Wood.
Teaching for seven years now, Wood has found many aspects to like about Athens. She likes the diversity among the students at Athens and tries to spend time  learning more about what makes her students unique.
"So many different kinds of people can come together in one class and work towards a common goal," said Wood.
Several students of Wood say they enjoy the creative labs they perform in her classes.
"One of my favorite labs was the m&m lab because we got to run around the classroom and look for m&m's while having our feet tied together or being blindfolded," said Ava Wallace, senior in AP Biology.
For future teachers aspiring to earn the Employee Excellence award, Wood suggests to take on other roles besides teaching to get a possible nomination. Particularly, Wood said that supporting colleagues is the best thing to do in the teaching world.
"I've always felt that our profession should be a very sharing profession and that it's important to support each other," said Wood.
Wood received a lot of recognition, particularly on Twitter, after the announcement of her award was published. Many Athens students and community members congratulated Wood on her win.
"I'm happy for Mrs. Wood for earning this award, I'm also glad to be taught by someone cares so much about her job and her students," said Sara Morlock.