Kanye or Kannay?
Kanye West (Ye), is a Grammy award-winning American rapper, singer, producer, author, director, performance artist and fashion designer. A man of many talents, often considered one of the generation's most influential artists is also labeled as the most controversial. Kanye is known to speak his mind (whether sane or insane), but a recent tweet from the celebrity has pushed people to a breaking point.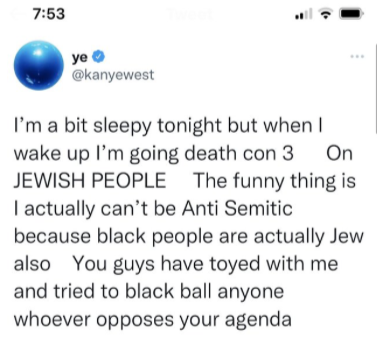 West's Anti-Semitic tweet has resulted in him being dropped from his major partnership with Adidas: the producer of his large-scale Yeezys, Gap, Balenciaga, and the Creative Artists Agency. Though West has been controversial in the past, people could not look past this recent occurrence. But let's take a few steps back into the uprising of Ye.
Kanye made a title for himself from numerous albums and fashion standpoints, but his title was heightened when he married a well-known celebrity, Kim Kardashian, on May 24, 2014. West was ultimately extremely popular and successful, earning billionaire status. Following the death of his mother, Donda West, Kanye began to spiral into grief. The shift from upbeat rap music to autotuned heartbreak shocked West's following. But the shift in music style wasn't the only thing changing, Kanye acted in an outburst leading to an interruption of Taylor Swift's VMA acceptance speech. Resulting in a disappearance out of the eye of the media occurred for a few months, as West was cozying up in Hawaii working on fixing his bashed reputation and tirelessly producing music.
His hard work paid off as his album contained songs classified as international hits such as All Of The Lights, Power, and Monster. After his solidified comeback, West was referred to as "The greatest living rock star on the planet," and produced songs that were "some of the greatest hip-hop sets of all time," by Hollywood reporters. People seemingly forgot about West's past outbreaks and concerning behavior. He was on top of the world, producing major hits and collaborating with artists such as Kendrick Lamar, Jay-Z, and Rhianna.
After Kanye's wife, Kim Kardashian, was violently robbed in Paris, he had to cancel and postpone shows on his Saint Pablo Tour. It seems as though this was another breaking point for West as he went on long rants against Jay-Z and Beyonce, and made controversial political statements such as his announced support for former President Donald Trump.
Kanye's current spiral has been taken more seriously. Not only have his partnered brands dropped him, but his Twitter and Instagram accounts have also been locked due to inappropriate content. Responses to his outbursts and posts consist of calling Kanye's actions "deeply troubling, dangerous, and antisemitic, period." as well as stating "there is no excuse for his propagating of white supremacist slogans and classic antisemitism about Jewish power, especially with the platform he has." Kanye is currently highly frowned upon, and people are afraid of what new behavior will arise.
It is clear that as long as Kanye is able to find access to social media platforms, his concerning remarks will continue. Kanye's once loyal fans are very vocal about where they stand with him, with hatred brewing toward the rapper. Celebrities in the Jewish community are standing up to West, and news articles are canceling him, this generation is not taking the remarks lightly. The Kanye West we once knew, has been replaced by a man who praises the values of Nazis and called his ex-mother-in-law "Kris Jong-Un".