How to have a balanced diet while busy with school
Plenty of students around the school admit they eat nutritious meals when they're at home, but when making lunch for school, motivation for healthy choices goes out the window. 
"I usually try to eat pretty balanced meals throughout the day, because I need enough fuel to power me through afternoon cheer practice." said Bridget Shuck, freshman.
Although a lot of students strive to incorporate all food groups into their daily diet, it is challenging to come up with new meal ideas which can lead to repetitive and unhealthy lunches.
"It is always an easy choice to grab prepackaged food while making my lunch, but I know that it is better to eat fresh foods that benefit my body." says Lindsay Grant, freshman.
One quick lunch to make for school is called "Healthy Lunchables"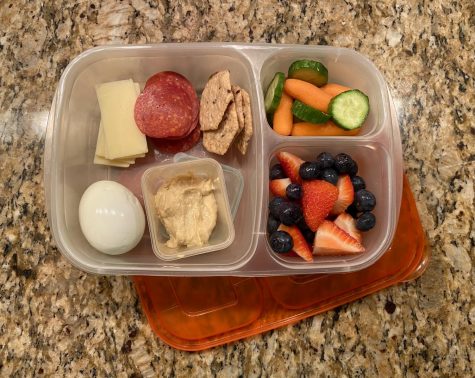 Ingredients:
-Any Crackers
-Cucumbers or Carrots
-Cheese
-Choice of fruit
-Hard boiled egg
-Hummus
To assemble, grab your ingredients, put the different items in a container, and bring it to lunch! 
Some tips for a healthy food routine is eating a nutritious breakfast; this will fill your body up and help with "bored" snacking. Make sure to drink a lot of water, to prevent dehydration, help with clear thinking, and give your body more energy throughout the day. Also, make sure to keep healthy snacks on hand so that when you need food throughout the day, it's less tempting to reach for unhealthy options from the vending machine.
Another convenient lunch option is a rice bowl. To create one of these filling bowls, you can use any ingredients you have on hand for topping the rice.
      1. First find a container and fill half of it with any type of rice you'd like
      2. Next grab your toppings
Here is a list of some things you can choose: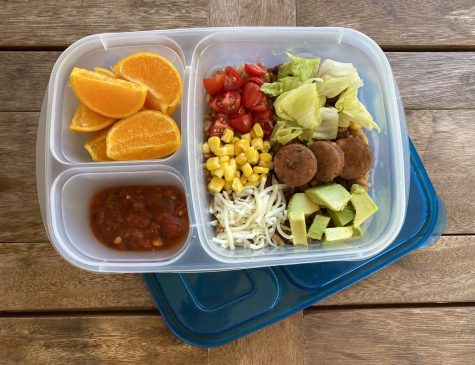 -Diced tomatoes
-Lettuce
-Any premade protein
-Choice of shredded cheese
-Corn
-Avocado
-Salsa
-Carrots
      3. Add your favorite sides and enjoy!
An efficient way to be prepared for packing lunch for the week is prepping your meals beforehand.
"Meal prep allows you to have healthier meals in a short amount of time." said Cathy Beavers, food and nutrition teacher.
If you're not familiar with meal prep, it is essentially making a couple different types of meals in one day, and saving them in your fridge or freezer to reheat and eat during the rest of the week. 
"When you get home from work it is late, and you're tired, so sometimes you have the temptation to stop at fast food, but when you have meal prep at home it is easier, cheaper, more nutritious, saves time, and makes you feel more satisfied," said Beavers. 
A great way to use meal prep in your daily life is to make your school lunches prior to the morning of school, so that they'll be ready to go each day.
One of these quick and easy meals includes turkey wraps.
      1. First grab the fillings, which are anything you would put on a sandwich
Here are some examples: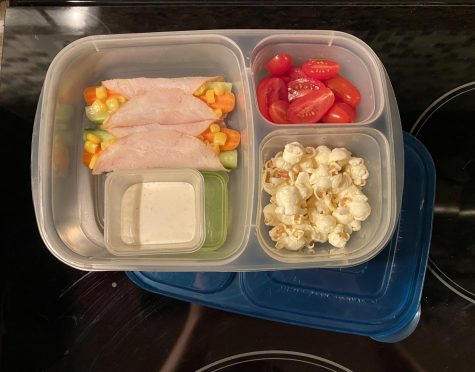 -Cucumbers
-Tomatoes
-Lettuce
-Carrots
-Choice of shredded cheese
-Avocado
-Corn
-Hummus
      1. Then wrap your choice of fillings up in a slice of turkey (or Tofurky if you are vegan or vegetarian) 
      2. Add any choice of sides like pita chips, fruit, or nuts and enjoy!
Making sure you have a balanced diet every day is so important to perform at your best, physically and mentally. There are so many options for food choices and resources to find different recipes, so just have fun with it!