Lizzie Edwards uses her passion for graphic design to spread joy through her Etsy shop, GiveLoveStudios
March 19, 2021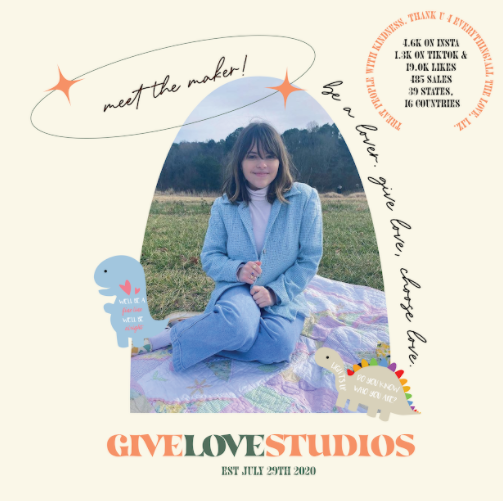 Photos by courtesy of Lizzie Edwards
Senior Lizzie Edwards grew up surrounded by art and innovative influences. Her mother is a graphic designer for the federal government and her grandmother, who Edwards says is extremely artistic, owns a small business. But it was not until the summer before her freshman year that art officially transformed her future ambitions. After helping her mother on a few projects for her job, Edwards quickly recognized that her professional aspirations aligned with graphic design—her new creative outlet.
When she found herself with extra time during COVID-19 lockdowns last year, Edwards decided to take her passion for design to the next level and delve into entrepreneurship. She launched her own Etsy shop named GiveLoveStudios in July 2020, selling her own products of graphic design that predominantly feature one of her role models, Harry Styles.
"I was bored, like really bored, during quarantine around May when things were opening kind of, but not really. I was on TikTok and saw a TikTok for an Etsy shop called Pressedpaper Shop and after that, I followed them and kept track of them. Seeing that I could use my creative abilities to do something that I love started that [idea]," said Edwards. "From May to July, I spent a really long time researching, figuring out the best way to do it and finding supplies."
The start and evolution of GiveLoveStudios
Edwards' original idea centered around creating her own stickers, in which she cites her captivation for Harry Styles stickers as well as its massive market size as her motivation.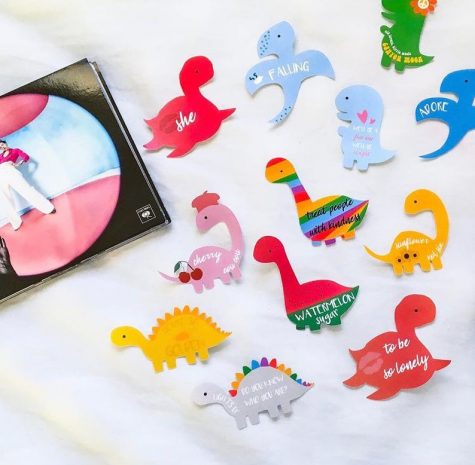 "At that time, I didn't have the machines to do anything myself. So I obviously went through the design process of sketching and doing stuff on my laptop…making the files, checking out different suppliers and seeing how much it would cost to do it myself—to buy my own paper, ink, print them and hand cut them. I actually hand cut stickers from July to December [until] my sister and I got a Cricut for Christmas," said Edwards.
Over the months though, her business plan evolved into selling several items with distinctive designs, including prints, vinyl apparel, embroidery and tote bags. Her first step when creating any product is to draw or design it digitally and then to acquire any necessary materials for production, which can include vinyl, t-shirts, parchment paper, sticker paper, heavyweight cardstock and more, depending on the item.
All of Edwards' merchandise is currently made at her home except for the embroideries, which are outsourced to another company. For products where she makes a mistake, Edwards sells them under the "Floppy Friday" category at a discounted price.
"It's been fun. It definitely gets stressful at times, like [during] the holidays, people tend to forget that you're a person and that I'm not an Amazon robot or some animated customer service bot. But it makes me feel really happy to know that I'm making someone else happy," said Edwards.
As the orders roll in, Edwards spends time personalizing and packaging each one, which often causes her business to take over her bedroom. Depending on the week's demand, packaging the orders can take anywhere from two hours to an entire weekend. While working to promptly mail them out, she is frequently joined by her mother and her sister Emma Edwards, who is also a senior at Athens Drive.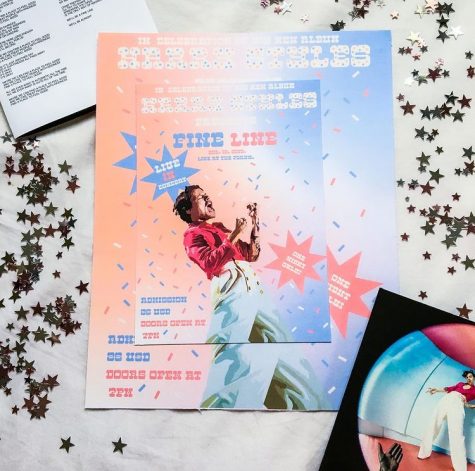 "When it comes to the packaging element, it's just a different side of being able to communicate with someone—to know that they might have ordered just a sticker, but they could be waiting and this could make their week. I really try to make things as special as possible, so I always have handwritten notes and extra things," said Edwards. "It's a lot of work, but they [my family] are very supportive and helpful. They help me put on labels, cut things, [put] stickers on things and help me get things done when it gets super busy."
On a weekly basis, Edwards spends an average of 32 hours working on her shop, which includes marketing through social media and responding to customers via email. She also continues to maintain a high GPA and babysit, while still striving to achieve a work-life balance.
"It's really stressful to do all of this stuff at one time. I think it takes a toll on your mental health. There have been times when I've stepped back for a couple days and been like, 'Ok, I need to take time for myself,' because I'm comparing myself to other shops and bashing myself down when I shouldn't be," said Edwards.
As of March 10, 2021, Edwards has made 485 total sales to customers in 39 states and 16 countries. She repeatedly finds herself amazed at what sells and what does not, especially with what turned out to be her best-selling item. 
"One day I was listening to the 'Fine Line' Harry Styles album and there's a song on there called 'Canyon Moon' and it talks about traveling through the world. For some reason, I thought of dinosaurs, so I made a set of dinosaur stickers pertaining to that album and that is my best-selling product. I don't know why," she laughed. "But that was something that really helped my shop grow because it was a really unique and original idea. I can tell you right now, out of the eight orders I have to ship, I think six of them have dinosaur stickers."
Sending a message through her products and social media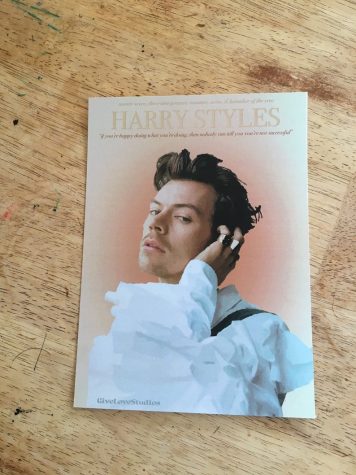 Numerous products sold by GiveLoveStudios reflect the work and messages of Harry Styles, and often target his supporters as well as those of Taylor Swift and One Direction. Edwards, who looks up to Styles, seeks to reflect his motto to "Treat People With Kindness" through her sales.
"The name of my shop is called 'GiveLoveStudios' and Harry Styles said, 'Be a lover. Give love. Choose love.' I think it's really important in the world today that you are choosing love, you are spreading love and being kind because especially now, you don't really know what people are going through unless they come to you," said Edwards. "I think that there's this huge stigma around coming to people, so I just think there needs to be a little more love and joy in the world no matter the time."
Since GiveLoveStudios's conception, Edwards has also garnered a strong social media presence, amassing over 4,600 followers on Instagram (@givelovestudio). To further her marketing, she remains active on Pinterest and creates TikToks, through which she has gained over 1,600 followers and 19,000 total likes. Yet despite her products meeting the gaze of thousands, which she commented was "mind blowing," Edwards says that numbers are not extremely important to her.
"I think I finally reached a place where I'm really happy with my shop and what I'm doing," said Edwards. "But it's nice to have the support and the following to help me boost things or reach more people, which is the engagement side of things. I'm always sitting there and talking to people or I'm reading responses and I'm like, 'How in the world do this many people follow me?' I guess I don't think I would have ever gotten to this point."
Edwards' plans moving forward and advice
When she graduates this spring, Edwards plans to major in graphic design and bring GiveLoveStudios along with her to college. While she does not imagine herself opening a storefront, she feels that college will aid her in deciding the business's future. For now, she hopes to continue expanding by furthering her focus on apparel, and exploring screen printing and card making.
"Expanding…I really enjoy it and it's also a good way to make money to either donate to an organization, to help my family out with or to pay for things myself. It's also a really rewarding process to create your product from start to finish, because sometimes I'll go back and look at my initial sketches and what actually came out of it and I'm like, 'Man, that feels really good,' and to see other people also enjoy it is really important to me," said Edwards.
As she reflected on being a teenage entrepreneur, Edwards shared guidance for those wanting to create their own businesses. She first advised to talk to others and make friends within the small business community; while it may initially seem intimidating, she said that most people have the same objective—to grow their business—and are willing to help newcomers out. Edwards also commented that "what works for me might not work for you" and emphasized the importance of doing individual research to work out the best game plan for one's entrepreneurial vision. 
"I think that it's really crazy that out of something that was so dark, depressing and affected so many people, that I was able to find the good in all of it. Being a senior and missing out on so many big senior events, I needed to find a way to distract myself and I found that by doing something that I love. I think that anyone can do it as long as they do it the right way and make sure their products [and] work is the best quality," said Edwards. "I definitely think it takes time to get where you are and where I am, it's taken me almost seven months. But don't give up because I think that everyone is talented in their own way. Everyone has something that they're really good at and if they continue to work on it, they will get to where they want to be."