Millions of high school students across the country have jobs. Students consider many factors before deciding to get a part time job.
A worry that many parents have is that having a job may cut short their teen's childhood. 
The National Library of Medicine shares that students having jobs may spoil their adolescent moratorium. Developmental psychologists loosely define the adolescent moratorium as a period that lacks adult-like stressors and responsibilities. According to these developmental psychologists, the moratorium is an essential part of human development, meaning that having it cut short could lead to serious lifelong effects.
Students have some very different opinions, such as Terell Johnson, a sophomore at Athens Drive who recently left his job.
"Yeah, waffle house made me way less shy… I used to sit at that table by myself," said Johnson.  "But I actually had to leave, 'cause it was messing with practice." 
There are studies that show that Johnson's belief may be grounded in fact.
 JT Mortimer published a book in 2009 called Working and Growing up in America. This book included several studies. One of the said studies was conducted on a broad range of teenagers enrolled in high school. Some of the teenagers had a job and others did not. This study concluded that the students who regularly worked a job were more confident and had better time management skills.
Students such as Johnson strongly believe in the benefits of working as a high school, but it's not just students. One example of an adult who is strongly in support of students being employed is Melonie Carlton, Career Development Coordinator at Athens Drive. Her job allows her to constantly work with students who have questions or worries about employment. 
"I think that it is important to get work based learning experience. For one, I think that we all have an idea of what a job should look like," said Carlton. "But then it's hard to explain how to have good consumer service without being in direct contact with people."
IMAGE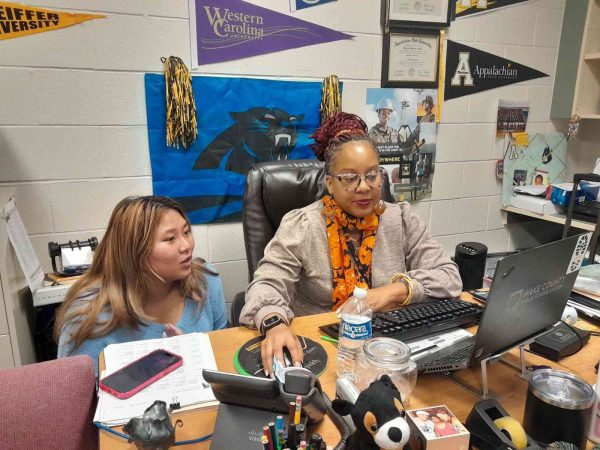 Science Magazine conducted a study with 1634 disadvantaged teens that shows that teens keeping busy may be a good thing. Over a period of 16 months, the teens participated in a summer job program. After the study ended, the amount of violence that the teens committed decreased by 43%. 
"Having a job helps me" said Michael Rattini, a Junior at Green Level High, "It gives me the ability to socialize people, or provide me with a constant stream of money."