Catch this; GSA's Lavender Ball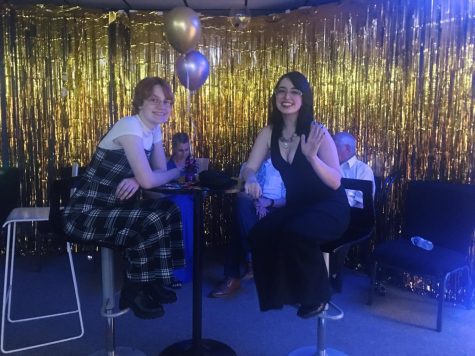 During Covid-19, all school club activities were shut down. With many clubs being left in the past, one is putting the effort to make an impact on the school and the surrounding community. Athens Drive Magnet High School's own LGBTQ+ club, Gay Straight Alliance (GSA) hosted the Lavender Ball as a fundraiser for charity. The Lavender Ball was held April 21 at Blount Street Community Engagement Center from 8:00 p.m to 11:00 p.m. All 700 dollars in proceeds went to the LGBT Center of Raleigh and St. John's Metropolitan Community Churches.
"We hope that in years to come that the event will grow and that we will be able to raise more money and provide donations to more local non-profit organizations," said Jason Hunnings, special ed. teacher and club advisor.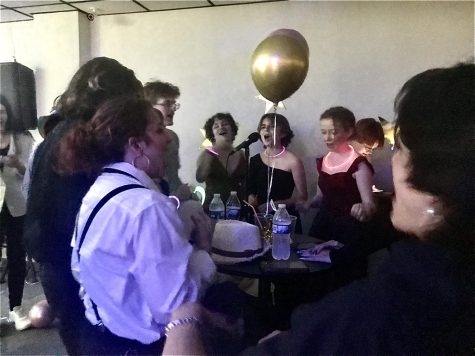 The event was mentioned in the announcements, along with flyers being around the school to advertise the event. Students would need to scan the QR code on a flier to pay the 15.00 fee for a ticket online. Decorations, food and refreshments were offered to guests while they danced. The playlist was open to suggestions, often leading to karaoke sessions amongst the crowd with popular songs.
"It was really a night for the students, queer students and allies, to have the fun that they wanted to have," said Elizabeth Senn, club president.
The idea for the ball came up again from a brainstorming session between club members and advisors. The club decided to revive the tradition last seen in the 2019-2020 school year. Back then, the club was titled the Queer Straight Alliance (QSA), and held a "Pride Prom" in February 2020.
"Mr Hunnings basically brought it up to us and Liz [Elizabeth Senn] basically just took the reins and decided to do it again," said Brandon Nguyen, vice president and senior.
This year, the party makes a comeback with the new label, "Lavender Ball". The Inspiration behind the name calls back to the "Lavender Scare," a period of persecution and stigmatization of queer individuals during the 1950s. With an increase of homosexual public behaviors, homophobes were paranoid that it would spread like a disease. The era took an effect on an individual who is an inspiration to Senn.
"It was part of the reason that Oscar Wilde was ostracized from society, it was during that time period where homosexuality was punished and stigmatized to such a degree that people didn't feel safe to come out even to their friends," said Senn.
However, the club wanted to recontextualize the name, creating a safe space for the community.
"The Athens Drive GSA wanted to host a dance where students felt safe and comfortable attending with same sex partners," said Hunnings.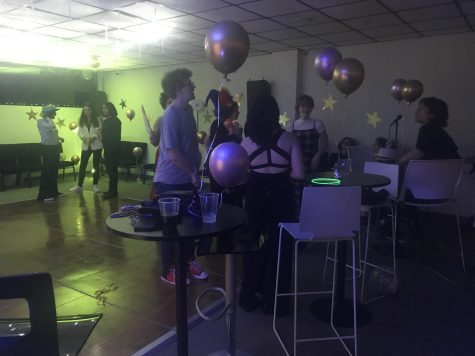 However, since the club began the project later in the year, it brought a number of challenges. Simply getting the ball rolling was a challenge. Difficulties included communication errors between advisors and club members, planning, decorations, securing a venue, figuring out how to get materials, creating a menu and ordering it, along with finding chaperones and volunteers. The ball came out to be a little more expensive than they were expecting.
"The community actually ended up being really helpful, and so many people came out of the woodwork to make it happen so- eternally grateful for them," said Senn.
The club has learned much from this experience, and already have plans in mind for the future. The GSA aims to start planning in the first semester next year, allowing more time to get everything in order. Plus, the extra time would allow for advertising to reach more students in Athens Drive, and more schools across Wake County than before.
"Everyone in attendance had a wonderful time and we were able to raise money for two great organizations that provide services not only for LGBTQ+ people in Wake County but also aid for people in need of food and shelter," said Hunnings.