Athens Drive Art Honors Society Celebrate their Special Talents at the Athens Drive Art Show
Athens Drive's Art Honors Society members held an art show on April 14, 2023. Art shows are a great way for students in the Art Honors Society to share their work and interact with others that have their same passion for art as they do. 
"They had one last year and we had one like we have had them prior to covid but we are hoping for it to be a regular event," said Farrall Hilton, AP Art History teacher at Athens Drive.
The Art Honors Society is trying to make the art show an annual event like it was prior to COVID to continue to encourage students with a passion for art on a yearly basis.  
"It's a celebration of the creative skills and talent of the students and just have some food; just enjoy, there is a doodle table so just to come together and to just acknowledge the work and effort of creativity of the students," said Hilton.
As the Art Honors Society student community grows, so do their talents and interests in art. Events like this one help grow their skills in the topic that they love.
"So I would say my childhood is what really drew my passion. As I started growing older, I grew a bigger passion for art," said Manar Bouleqcha, Art Honors Society member.
Some people gain the passion for art through their childhood while others may be introduced to it at school, but all the same, they love art.
"My parents got me a notebook when I was little and I would just draw every single day. And it's something I still do today. I just draw whenever I can," said Esha Fatimaquazi, sophomore.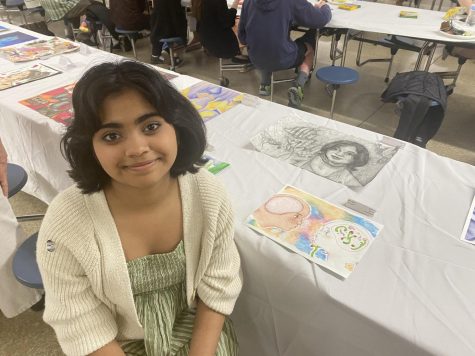 The Art Honors Society students love what they do, and as they grow they may use it for future career paths and those who don't will keep it as a forever hobby. 
"I'm planning to go into the health sciences field, but art always has a passion in my heart. I always try to do it whether it's a hobby [or a career]," said Bouleqcha. 
Students in the Art Honors Society participate in the art show not because they have to, but because they want to and have a passion for it. 
"I've loved [art ever] since I was a little kid," said Fatimaquazi.
The artists are not participating in the art show just to share their own work, but to also see what others make. 
"I haven't been to many art events before, but this one had food and a wide variety of different artists with different influences. So that was really cool to see," said Katlyn Ragsdale, sophomore.
The art show gives the Art Honors Society students a chance to interact with other future artists, and to see each other's works. Unlike other hobbies art is less recognized, but the art show changes that by allowing the students to share their skills and talents with each other.
"Making art is sometimes a solo experience unlike a performance or a play so this is a good opportunity for students to showcase that work, and that thought," said Hilton.