Seussical the Musical: Behind the scenes of the 2023 spring musical
The Athens Drive theater department has worked hard to put together the spring musical, Suessical. All staff in the department, including the crew, are enthusiastic about composing a special performance.
Ashlynn Hayes is the theater teacher and Director for the Athens Drive Theatre Department. 
"I wear a lot of hats as the theater director here at Athens Drive. Other schools have technical directors and teachers that teach tech which we would love to have, but it hasn't happened yet. But for us, it's all me. So usually I have some type of grand idea for what the set will look like and then I work with my student directors. I kind of give them my ideas" said Hayes. 
The crew help out in many ways, ranging from actually building the set to creating costumes the cast wears onstage. They spend time both inside and outside of school to ensure the show runs smoothly. The crew helps Mrs. Hayes bring her ideas for the shows from thought to life. However, she has the final say in everything that is done.
"I work directly with the costume designer, kind of give, again my overarching idea. And then it's very much a back and forth where she pulls some things and then we look, it's very much where it's a collaboration where I work with the students. And obviously at the end of the day, if I don't like something, then we pull it and make something new work. But for the most part, part of being these leaders in the student tech crew, it's because you do work really well with collaboration," said Hayes .
Crew members are in charge of everything and anything that is not acting. This includes the smaller things that many would never think of. Which in turn can elevate the overall production value of the show.
"It wouldn't be as visually appealing. It's one of those things that if they're doing their jobs correctly, no one knows that the crew exists and they shouldn't know that they exist. It's a very thankless job, but the shows would literally just be kids on stage and clothes that were their own. With no lights, no sound, no nothing. Could they still probably be great? Yeah. But they add the magical mystical factor to the theater program. They add all of the spectacle. Uh, without them, it would not be the same at all," said Hayes.  
Junior Brady Jones is the Technical Director for the Athens Drive Theatre Department. 
"It's pretty major. It's in charge of all the backstage side of things pretty much so set design and managing overall," said Jones. 
As the theater crew builds and paints their own sets, Jones ensures that things are running smoothly behind the scenes. He's there to remedy any problems that might arise during the design process. But Jones wasn't always so involved
"I have been involved in theater and crew since sophomore year. This would be my fourth, technically fifth [production] if you count the Jag Show," said Jones. "But I started out as a lighting and sound lead because it was primarily an open position at the time and they really just needed people, and I was interested. So that's kinda how I got sucked in; once you start you can't really leave. So I've been here ever since, but this is my second time as a technical director."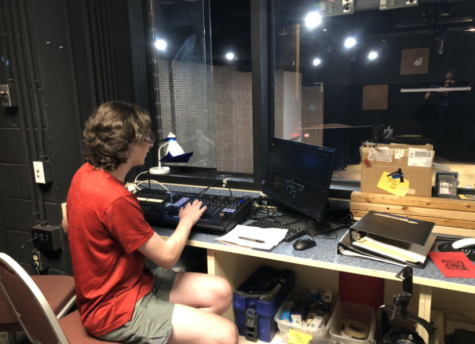 Jones has come a long way since being a lighting and sound lead. In his junior year, he earned the role of technical director. Though his responsibilities are much more significant now, he is still willing to help out in his former fields.
"I still help out with lighting a little bit. I'm one of the few people that kinda knows the technology part of it, so I usually help out with that a little bit. I don't know if that'll also be the case this show– if I'll still be running like lighting and soundboard, it'll probably get passed down to some freshman," Jones said. 
No matter what his role in the performance might be some things have remained the same since his sophomore year: his peers and community.
"The best part really is just the people," Jones said. It's a great experience and everyone is always really nice. When I started I was kinda socially awkward, so this [environment] really brought me out of my shell. But I'm just so glad to be part of something with so many nice welcoming people. It's really fun!"