Hiking and Hammocking Club gives students a unique outdoor experience
The Hiking and Hammocking Club is a club offered at Athens Drive Magnet High School that was founded by student Caroline Purdy and is sponsored by social studies teacher, Sarah Shouse. This relatively new club holds appreciation for the environment, quality time with its members and quality time outdoors to the utmost importance. 
"It contributes to the idea of the "Athens Drive family" as well; it's just an opportunity to spend time with new people and bond with them. And all of this is happening while being outside and enjoying the Earth," said Caroline Purdy, president and club founder.  
To join the Hiking and Hammocking club, there are no requirements; all that's needed is an interest and a desire. The meetings typically take place in and around Raleigh, as well as the Wake County and Durham County area. Meetings are held in room 2812 once a month and there is also a Remind and Instagram account open to anyone who's interested.
This club ensures that the members are involved every step of the way. Brief ten minute meetings are held where members give opinions on hiking locations and the dates that work best for them. Once locations are finalized and dates are set, it's all about catching up with  friends and enjoying a nice day outdoors. 
"It's really cool to see what we have in common and just check in with my peers. I also really enjoyed setting up the club and watching it develop and seeing students get excited about it," said Purdy. 
Setting up a club could not be done without the help of a sponsor, someone who offers to be a responsible adult for meetings and support the growth and development of a club. For the Hiking and Hammocking Club, the sponsor is Ms. Shouse. 
"I think the hiking and hammocking club is important to Athens not even as a huge hiker or hammocker myself, but to get kids doing something outside together in an easy, neutral kind of  way," said Shouse. 
The positive effects of being outdoors have been well-documented and well-known for a while now. By just being outside, there are benefits to a human's mental and physical wellness. There have been medical records and hospital data that show patient diagnoses and chronic illness risk are often related to where an individual lives and their proximity to green spaces. As well as lowering the risk of depression and having faster psychological stress recovery.
Many people hear of these benefits and want to incorporate more outdoor time into their daily life. Many students find that becoming a part of the Hiking and Hammocking club is a great way to achieve that goal. There are many instances where motivation plays a huge role in wanting to go outdoors and hike. When there's a commitment to a specific date with a group of peers it'll increase motivation and most likely get more people out the door. The hiking and hammocking club is a unique addition to the variety of clubs here at Athens, with a very inclusive and friendly atmosphere.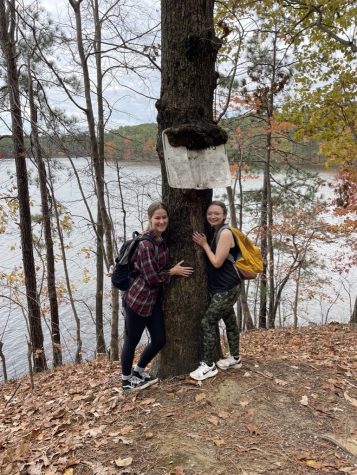 "I think it's different from other clubs in Athens. I can't think of any other club that gets outside just to relax", said Purdy.