Duality: Charles Carter takes on the classroom and the field
An inside look of all sides of Charles Carter
An assiduous student in the classroom and a dedicated athlete in Jaguar Stadium, Charles Carter balances schoolwork with athletics. In the peak of fall sports and college applications, obtaining the position as a varsity football starter and maintaining good grades can be overwhelming, but senior football player Carter does it all and makes it look easy.
"Setting your priorities straight is one of the most important things you can do when balancing sports and school work. Do what you have to do first, and the rest follows," said Carter.
Carter's passion and perseverance is shown on the field and in his football statistics. For his second year of high school football, Carter has put in tremendous effort to improve his skills during the on and off-season. As a cornerback and wide receiver, Carter holds high-ranked stats throughout the conference; second in the conference for receiving 507 yards, fourth in the conference for defensive interceptions, and eighth in the conference with 699 total yards. 
Athletes tend to question their ability to juggle sports and academics. In peak season combined with a heavy workload, it can become challenging to maintain both aspects. Sometimes, athletes must prioritize school or work over their sports.
"Just recently, I was invited to tour a college for an official visit over the weekend. This visit happened to be the week I was taking my SAT. I really wanted to skip my test and go to the college, but taking the SAT was my priority at this moment and I had to do what was right and skip the visit," said Carter.
Carter was reintroduced to the sport his junior year, and begged by friends and coaches to play. For being on varsity for only two years, Carter is a key player in the success of Athens football.
As Carter hopes to continue his football career in college, this was a difficult decision to make. Obtaining passion for a sport is the most important aspect when needing to push through rough patches.
"It's all about the love. Without love for this sport, I would not be able to motivate myself to keep going, it would be very easy to give up," said Carter.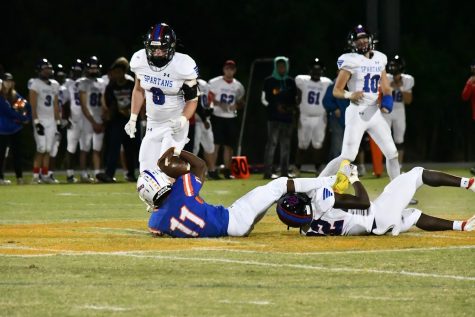 Carter does not just stand out on the field, his hard-working attitude is reflected in his grades and course difficulty. With a high GPA, and 6 AP level classes completed by the end of the year, Carter was selected as Scholar-Athlete of the Week.  Scholar Athletes of the Week are selected based on GPA, contribution on the field, and leadership in and out of school.
"I take a lot of high-level courses, and sometimes the workload builds up. If you have school work that needs to be done, then you get that work done before you do anything else," said Carter.
That level of self-discipline is typically unfounded in high school student bodies, but Charles Carter continues to prove to be an outlier. From the teachers of his classes to the passionate crowds at his games, so many people are rooting for Carter's success. 
"You've got to love it, you have to love the hard parts and the easy parts, the wins and the losses, your teammates and your coaches. Without love and support, it wouldn't be worth it to put myself through the stress of hours of practice and hours of homework," said Carter.