COVID-19 allowing for longer preseason for WCPSS student athletes
Adam Shefet, Editorials Assistant Editor
January 5, 2021
For athletes, a common theme throughout 2020 has been COVID-19 taking opportunities and experiences away. Athletes could not watch professional seasons for months, their high school seasons were postponed and recruitments have been wildly disrupted. Finally a benefit has arisen for participants of Wake County athletics due to season delays: extended preseasons.
In past years, student athletes would have about a month or a month and a half prior to the season in order to shake off rust and condition before the season starts. This year, most sports are recieving nearly three months to prepare based on the Wake County return to sports schedule. This plan allows for a gradual increase in training month by month before the start of a team's season. The schedule allows up to two practices the first month, four the second month and five the third. This is integral to the safe return to sports because many athletes have had to wait longer than usual to return to action. A gradually increasing practice schedule is vital to ensuring the minimization of preventable injuries and increasing performance by the time the season comes around.
A prime example as to why this is important is this season's NFL injury crisis. The league began without a preseason in hopes of reducing the chance of spreading COVID-19. As a result, the league has suffered a severe spike in injuries, especially season-ending ones. Normally, preseason games are used to help players warm up to the season as games that are competitive but not as competitive as the intense regular season games. Without this middle ground, players have had to adjust from team practices directly to the regular season and it has cost an unprecedented amount of players their seasons. Had Wake County not allowed an extended preseason for student athletes, the same could have been true for high school athletics.
Apart from the physical benefits of an extended preseason, it also improves the moral of students after spending so many months away from sports or behind a screen. Virtual learning can be draining on a day to day basis so this allocation of time allows student athletes to spend more time doing what they enjoy. In a team aspect, this extension gives time to the athletes to spend with their teammates and create team bonds. Chemistry in team sports is a very good indicator of how well a team can perform, meaning more time with teammates can lead to more wins.
Furthermore, COVID-19 has caused many sports' seasons to be shortened and removed out of conference competition, so this extra time with teammates and friends is a bit of compensation, especially for seniors, for time and experiences they will be missing out on in the future.
"The longer preseason is good because it gives us time to build up a lot of chemistry and have the team get together. It also makes the play more competitive since everyone is constantly putting in work and are going to be more eager to play in a real game which is good," said Joshua Burkhardt, senior soccer player.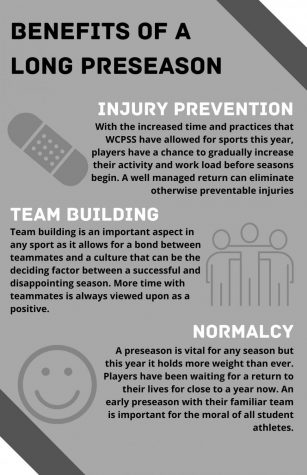 As preseasons start to come into effect, it allows student athletes to regain some type of normalcy back into their high school experience. Many of these students can attest to their sport being some of their fondest high school memories. The elongated time and quick return of their sports allow them to make the most of their virtual year.
The longer preseasons allow for a quick return to sports and a safe amount of time for athletes' bodies to readapt to the vigorous activity of a high school sport season. The gradual increase of activity over two to three months is beneficial to all student athletes in order to take care of their bodies and minds.
"It is essential to the physical, emotional and mental well being of students to return to physical activity in as safe a manner as possible, which is the basis of our plan," said Deran Coe, Wake's County director of athletics to the WCPSS school board.