Love in the air at ADMHS Sweetheart Gala
As a Valentine's Day celebration, Athens Drive Magnet High School's Health Occupation Students Of America (HOSA) club hosted a sweetheart Gala as a charity event for the women's center of Raleigh. The Gala was held on February 11 at the Cary Chatham Station from 7:00 p.m.-10:00 p.m. 
Starting the Monday before the Gala, tickets went on sale online and in person during A and B lunch. Tickets were on sale for $20 each, and students were also given permission sheets that guardians were required to sign for entry to the Gala.
 The Chatham Station had parking spaces for students and teachers and a safe area for parents to drop off their kids. When students entered the Gala they handed their signed sheets to Kristen Worrel, Athens HOSA club sponsor, along with an Athens HOSA member. 
After handing in the signed permission sheet, students stood in a line in front of Ryan Piccolo, Athens Assistant Principal to blow into a breathalyzer wand to enter the Gala if passed. 
If students were not to pass the test, Piccolo and other admins would make sure to deal with the situation maturely and calmly.
"We would call the guardian and proceed to handle the student with caution, trying our best to not disturb the whole facility and to not cause a scene," said Piccolo
At Athens, student safety is the staff's number one priority, for this year's charity gala students were protected by Worrel, Piccolo, and Stephen Mayers, Athens Principal.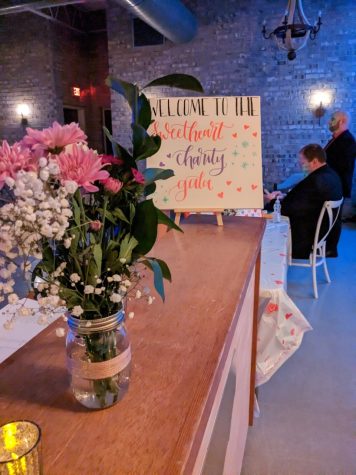 "We continuously circumnavigated the perimeter of the location along with inside the dance facility, we try our best to protect our students," said Piccolo.
Snacks and water were also provided for students and staff to enjoy. Students were dancing to old dance trends like [Watch me] (whip/nae nae) by Silentó, "Juju on that beat" by Zayion McCall, "low" (apple bottom jeans) by Flo Rida, and [Crank That] by Soulja boy.
"I really enjoyed the gala I got to dance with my friends and there were a lot of good snacks avalible," said Inez Pare, Freshman.
Singing in the disco lights, taking pictures in front of the valentines themed backdrop, and on the patio with an aesthetically pleasing grass wall. They played throwback music from the 2000s like "Party in the USA" by Miley Cyrus, and "Baby" by Justin Bieber, along with the old music trends. 
"I loved hanging out with friends outside of school and dancing.  I'd definitely go again," said Mykaela Pylypiw, Freshman.
The sweetheart gala had its party music but they sure couldn't leave out the most classic part about a high school valentines dance, the slow dancing.
 Students calmed down after the party music and slowly transitioned into slow dancing with their loved ones. They danced to the one song designated specifically for the big slow dance "until I found you" by Stephen Sanchez, most students knew this song from "Ginny and Georgia" the TV Series Awarded for Best Breakthrough Performance on Netflix.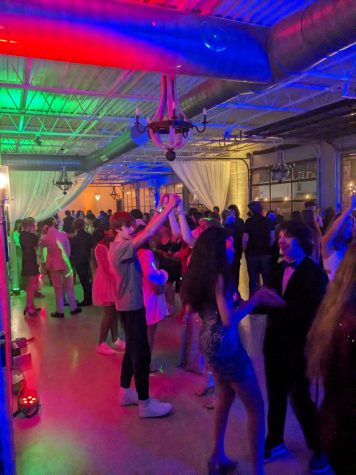 After every few songs a slower dance would pop in to give loved ones a chance to either slow dance again or if the first slow song was missed. One of the other slow songs that students slow danced to was "golden hour" by JVKE "golden hour" was another quite popular song throughout 2022-23.
Some students were hesitant to slow dance at first but then after seeing others slowly decided to join the others in the slow dances. Once almost every couple was out on the dance floor so much love was in the air.
"I thought the whole thing was going to be a little too cheesy for me. I'm not much of a public party dancer either, but the slow dance with my girlfriend was really nice" said Greyson hatrick, Sophmore.