The Drive's finest looks forward to continuing streak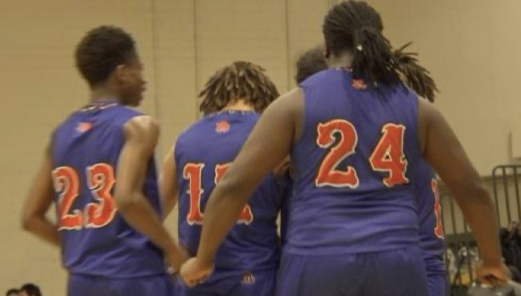 The Athens Drive basketball season is halfway, and the team is looking toward a promising postseason. They are at an 8-6 record overall and have been dominating their opponents at home with an overall record of four wins and only two losses at the Drive. They are first in the conference again and are attempting to run it back as conference champions from last year. The past two seasons in general have been quite successful for the squad as their winning percentages have been over .500 with the teams going for a deep run in the playoffs. 
The roster this year is comprised of many if not all the juniors now turned seniors from last year with the addition of two significant players; freshman Marcus Green and junior Ryan Poggioli. Green currently leads the varsity team in blocks averaging 0.9 per game while Poggioli brings some much-needed depth and outside shooting to the team. The team's chemistry is at an all-time high as they want to become the first team in the school's history to become back-to-back conference champions while winning the state championship. 
Coach St. John has seen the team during its ups and downs throughout his time mentoring the players here at Athens and has been proud of the team for overcoming their slow start to the 2022-2023 season. The team had only grabbed two wins and was on a five-game losing streak at one point, but now they have been on a tear the last seven games, with six wins, and suffered a lone loss in a hard-fought battle in overtime against C.B.Aycock. On offense, St. John stresses to the squad that they must strike first in transition and make the most of the other team's mismatches. 
"The team has progressed significantly due to their attention to detail on defense and willingness to share the ball on offense," said St. John. 
One aspect of basketball has gone primarily overlooked over the past few years: the defensive side of the game. Many social media posts and highlights only capture players knocking down long balls or dunking the ball down with force on someone, but defense is what truly wins games. St. John has made it clear in his game plans that defense must be executed at the highest level to all his players. 
"We demand that our players play defense at a high level. That is always first and foremost in our program," said St. John.
St. John believes that this team can achieve all goals that the team can set its mind to. The conference Athens Drive is in is full of difficult matchups, but the Drive's team has many talented and battle-hardened players who have been in the program for years. One such player is senior Noah Hinton. 
Hinton has been playing for Athens since his sophomore year and his growth as a player has been noteworthy. He currently averages almost 12 points per game where he is the team leader in this category and is a big locker-room presence for the group. He can play both the point guard and shooting guard positions, which allows him to score at will and dish the ball out to his teammates for open-shot attempts.
"As a guard, I try to look for my teammates as much as possible, especially when someone has the hot hand. This year I've had the ball in my hands a lot more, which has allowed me to look for my teammates," said Hinton.
He has been one of the team's key players, therefore a lot of players on the team look up to him and rely on him to deliver. Being his last year here, Hinton wants to make an impact and play more selfless basketball to do whatever it takes for the team to achieve their common goal. 
"My career at Athens has been great and has worked out for the better. Our goal as a team is to focus on each game ahead of us and not look too far into the future, however, the ultimate goal is still to win [the] conference and see what happens in states," says Hinton. 
Another senior member of the varsity team, Jani Vanholten, is out with something to prove this season. He has shown much potential in the past few seasons and like Hinton, just keeps getting better, which seems to be the theme within the Drive's program. Coming off the conference win last season, Vanholten would also love to repeat as the defending champions once more. 
"My favorite memory at Athens is either winning a conference championship last year or beating Cary [in] the first game this year. I knew that winning [the] conference means that our team is gonna go down as one of the best in Athens history, and beating our rivals was a crazy environment," says Vanholten. 
Currently, Vanholten leads the team in steals with almost two per game, rebounds with a little bit over five per game, and field goal percentage with a solid 45 percent. Steals are when the player on defense successfully swipes the ball from the offensive ball handler, rebounds are when a player grabs the ball off a missed shot attempt to gain possession, and field goal percentage is essentially the make-and-miss ratio of a player with forty percent considered the average or minimum. Vanholten has shown that he is an efficient player that excels in both aspects of the game. 
"My playstyle is quick, but I play with pace. My mindset coming into games is to win however we need to. In practice, I improve by playing offense and defense like it's a game," said Vanholten. 
Another reason for the group's recent success is the strong chemistry between the players and coaches with one. The team treats one another like brothers and they know 
that everyone has each other's back. 
"Our team is always together outside of school hanging out," said Vanholten.