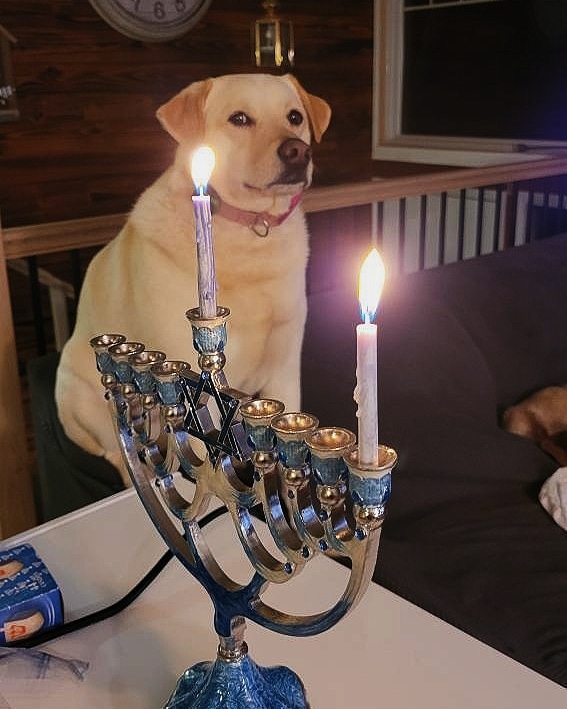 Photos by Kayla Lewis
Hanukkah
The holiday known as Hanukkah was created to celebrate the successful Jewish revolt against the Seleucid monarchy. It commemorates the rededication of the Second Temple in Jerusalem by the lighting of candles on each day of the festival. Hanukkah has many traditions such as dreidel spinning, which is an activity typically done with small children. 
Because of covid lots of temple members have been celebrating in a quieter way than normal. Traditionally people would have service on the first night of Hanukkah. "This is a special celebration which involves the lighting of the shamash candle (the first candle) and plenty of fellowship and food. Following that first night we exchanged gifts in our own homes concluding that night's candle lighting. Chanukah is a festival, a celebration of thanks, our people dance and sing together to rejoice this miracle of light." said Kayla Lewis, senior. 
Chanukah (translates to "dedication") is often referred to as the festival of lights. "The festival commemorates the recovery of Jerusalem and represents it by lighting one candle on the menorah each night, it includes special prayers and fried foods." said Kayla. The 2021 festival of lights goes through Sunday, Nov 28th – Monday, Dec 6th.
"Many foods such as Latkes (fried potato pancakes), Challah (braided braid), and other Jewish treats such as Sufganiyot (jelly donuts) are eaten and enjoyed during Hanukkah." said Kayla.
The Chanukah miracle is why the menorah lighting takes place during Hanukkah. The miracle occurred between the destruction of the temple and the rededication of the Second Temple. Despite the fact that there was only enough unadulterated olive oil to keep the menorah's candles burning for one day, the flames flickered for eight nights, giving them time to secure a new supply. The Jewish sages were so moved by this miraculous incident that they declared an annual eight-day holiday.