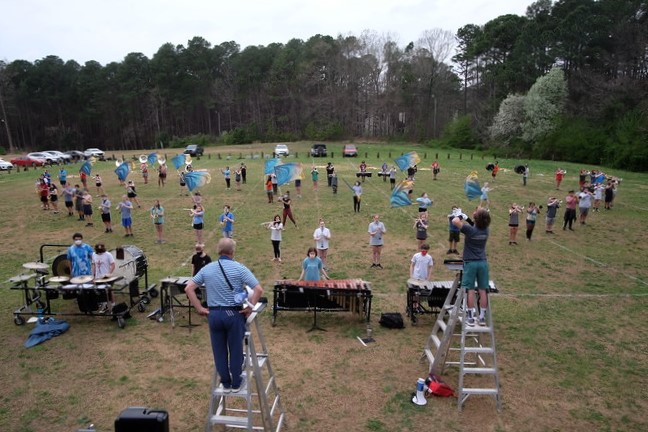 Photos by SmugMug
Athens Drive band goes virtual
High school is not just about learning and graduating, it is also about making friends and great memories as a teenager that one could never forget. Athens Drive Magnet High School offers many extracurricular activities after school hours. Many include sports teams and different clubs, but one that stands out from the most is the marching band. At Athens, the marching band is not just known for a halftime performance at football games or a school concert. From performing at the Philadelphia Thanksgiving Day Parade to the Outback Bowl for college teams, the Athens marching band is certainly recognizable across the east coast. 
Dr. Jerry Markoch or known at Athens by "Doc" has been teaching at Athens for over 27 years and teaching band professionally for 35 years. Originally a fifth grade teacher, Markoch moved to the high school level after eight years. 
Markoch teaches symphonic band, wind ensemble and concert band throughout the school day. But when it hits 2:18 p.m., Markoch is nowhere close to being done. He continues his role as the lead director in the marching band. He leads around 150 people in band and over 80 to march and create moving visual images. 
"I LOVE sharing the gift of music and life with my students!  Although most of them have played before high school, I still find that I am the one who is introducing them to so many new experiences, from playing in a marching band to performing great orchestral literature," said Markoch. 
Markoch teaches band to build unique connections with students every year. He enjoys the art of learning about each student, and the connections associated with each other. Students not only enjoy him as a teacher, but also as a role model they can connect with.
"What drives me is that I want to do it RIGHT, because I want my students to love themselves, their life, and their time in our band family–and they only get 1 shot at it!   They are too precious to let down," said Markoch.
Students in instrumental music/band do not just look at Markoch as a teacher, but as a person they can go to for help inside and outside of school. He helps students become not just better musicians, but better young adults readies them for life after high school. He does this by sharing real world advice and his past experiences to students. 
Markoch has not only led the marching band on and off the field but gone far away from home. He has traveled with his students since the beginning of his career at Athens, to perform for special events often resulting in awards. Markoch has won many awards from him to count and has performed numerous times at Walt Disney World and Washington D.C.
"I just have too many favorite moments–but often, they do not occur in 'performances,' but rather in rehearsals when everything just falls together, and you get that 'spine-tingling' moment," said Markoch. 
But with COVID-19 extending into the year 2021, Athens Drive has fully done one year with virtual learning. But during March 2021, students had the opportunity to return to school and have somewhat of a normal life. Band and virtual learning is impossible according to Markoch based on how it is a communicative experience and musicians have  to effectively blend their sounds together. 
According to Markoch, "COVID has been very rough on our band program.  You CANNOT teach BAND ONLINE… Although I have encouraged my students to practice, most of our time online has been spent LISTENING and LEARNING ABOUT the greatest music and composers of all time, the 'Art-Music"/"Classical Repertory' of Western Europe.  The thought process here is that if we cannot play together, we can certainly LISTEN together.  And the more perceptive you are as a listener, the better musician you will ultimately become."