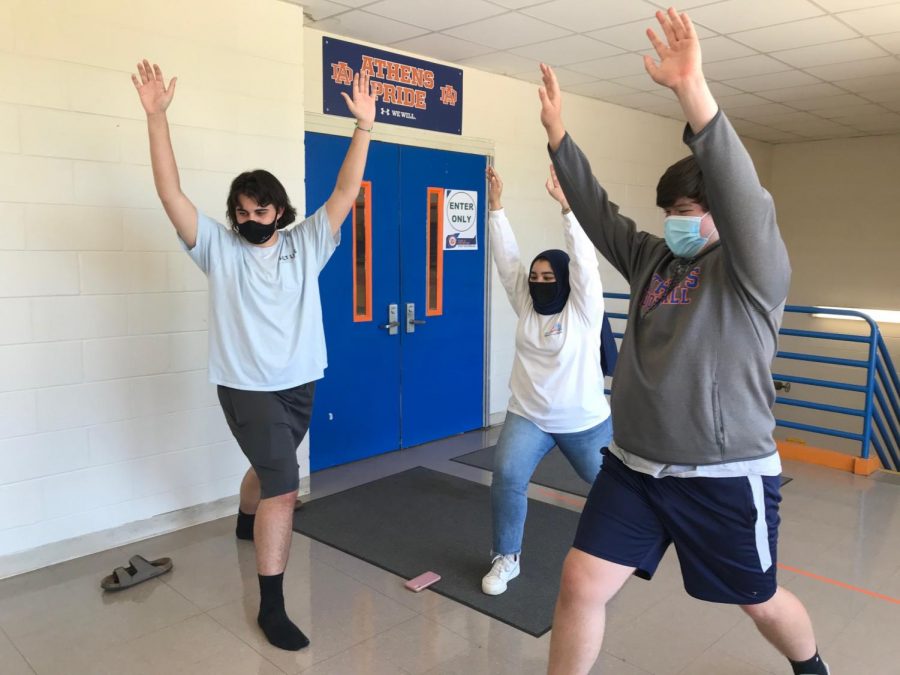 Photos by Mae Attwood
The struggle of online physical education
When the coronavirus pandemic first shut down U.S. schools in March 2020, everything came to a sudden halt. In the coming months, schools learned to adapt, returning in virtual form as classes resumed. PE class, however, still has not gained a sense of "normalcy" during online learning. 
Gym teachers all over the country are tasked with keeping their students active and safe, while simultaneously having minimal supervision over them. At Athens Drive, teachers had their students fill out PE logs with various activities they were required to do to ensure they were staying physically active. 
"There was no 'easy' way to check [if students were being honest on their logs] but if a teacher really wanted to know they could email the parents of a child and ask," said Lucas Raper, freshman.
While interacting with other students is difficult in this setting, they were able to work together on group projects through Google Meet's breakout room feature. PE class is widely considered to be a significant factor in meeting new friends during students' first year in high school, something that the class of 2024 will not get back.
"Coming from a catholic school, I did not have many friends when I first came to Athens. Gym class was where I met people and was the most fun part of freshman year by far," said Sam Bost, senior. 
Meryssa Weyer, PE/healthful living teacher, had to shift the focus of her class this year to adapt to the online environment. While she still used the two weeks of PE and two weeks of health rotation just as in normal years, the overall class was more intent on teaching health related topics.
"We focused on the importance of nutrition, physical activity, abstaining from tobacco, drugs, and alcohol. We also focused on the different muscle groups and what they are responsible for as well as different workouts that can be done at home and different sports the class was interested in learning about," said Weyer. "The students would have physical activity days where they had to be active for a certain amount of time and log what they were doing and relate it to the different muscles and components of fitness we had talked about."
Wake County Public Schools System (WCPSS) decided to remove the three cohort system and bring back all students signed up for in-person learning following spring break. This allows teachers to have a lot more flexibility in planning their classes as more students means more activities that are possible.