Photos by Rishi Rau
Senior Spotlight: Rishi Rau
When thinking of traits found in successful people, one of the most important is perseverance. This trait can be found in many of our seniors at The Drive, but none more than Rishi Rau. He holds himself to a high standard of performance, and when at first he doesn't succeed, he always tries again.
"[He's] a great student, STEM academy member, and all around good guy," said Ashley Turner, an English teacher who emphasized Rau's hard work.
Rau claims his accomplishments come from one thing: intentional work. He stresses the importance of his relationships with teachers and classmates to further his education throughout high school and into his higher education.
"It all comes down to building a relationship with your teacher, especially after class. After class, I'd stay and talk about what we did that day in class or a project we were doing," said Rau.
Rau is going to continue his post-Athens learning in college. For future education, he won an amazing scholarship at NC State University and is looking forward to the program there.
"After high school, I plan on attending NC State University and I'm going to be majoring in some sort of engineering. I got invited to a really good scholarship program there so we're going to have a lot of traveling opportunities and STEM enrichment," said Rau.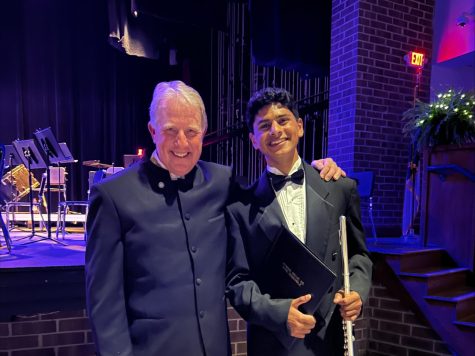 Rau tries hard to stay true to himself. He's continued to work hard and keep a level head, even in his last days of high school. Rau advises underclassmen to enjoy their time here. He wishes he'd been more involved at the school over his four years.
"Enjoy [high school] while it lasts. I honestly tell myself to be more involved in things. I wish I joined a sports team or something so I could say that I'm a part of that team. I was a part of the band, though, and I loved that all four years," said Rau.
Rau embodies what the community at The Drive strives to be; kind, humble and helpful. He found that staying positive and being the best version of himself has helped him through high school and he's looking forward to college.