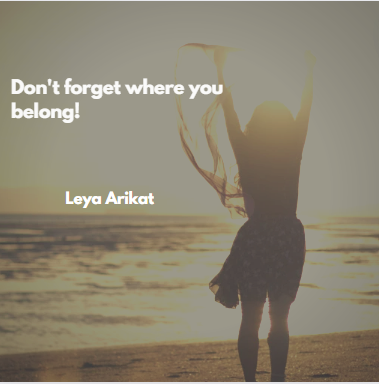 Photos by Leya
Don't forget where you belong!
The beauty of childhood is highly underrated. You're young and don't know a thing about the world. You constantly mention how you "just wanna be a teenager" but the minute it happens, you want Peter Pan to come and take you to Neverland where the young live forever with no worries. The innocence and naiveté among children truly are wondrous. When you spring into adolescence in a few years, you will find those closest to you won't be there for every step of your life. Parents teach us everything we need to know, except for how to live without them.
As a child, I was fortunate enough to live in a neighborhood surrounded by kids my age, wasting the day away with our crazy adventures and imaginative minds until the bats came out and we heard the familiar sound of our mothers' calls. Still smiling despite knowing that our mothers would be furious, we would spend the next day doing the same thing. We were young; our joy came from the smallest stuff. We had "invented" countless animals, kept them in jars, and might've accidentally killed half of them. Things at home for me were pretty hectic, and it was nice having somewhere to get lost and forget about all my problems. My childhood friends soon became a second home for me. In our optimism, we planned our future together, where we would be college roommates and our children would be best friends. When you're a kid with an unstable family, you tend to get attached to things easily; they were my safe space. Soon we entered middle school, and we had gone from being extremely close to acting like we didn't know each other. There are times we cross paths, and instead of being mad, I find it easier to reflect on who I am now because not everyone gets to experience a tethered relationship like that, especially at a time when I needed them the most.
Deciding not to spiral into a rage every time you see someone who has done something despicable as becoming a friend into a foe is not practically easy, especially when they have had such a significant impact on your life. Transitioning into adulthood doesn't come with its rodeo of troubles either; it's okay to undergo personality changes that later lead to identity adjustments. Finding your self-identity is a common struggle for people of all ages, but especially high school teens. The added pressure one feels with social interactions, stereotypes, and fear of wanting to fit in do not help. Regardless, it is not wise to blame yourself and a friend for a tethered relationship that you wished would have lasted. Rather than wasting your time on something of the past, focus on what is guaranteed to be in your future: you. Maybe you hadn't been the person you had imagined yourself to be, and that's okay. 
Although, from my experience, getting older isn't all that scary. Of course, there are the common adaptations and modifications everyone undergoes to maintain a steady life, which can be rough no doubt. Slowly but surely, you will come to realize how beautiful life can be and how lucky you are to even be waking up every morning. Taking time out of a stressful day and enjoying the simplicity of your day can make you realize that life is worth living. Whether it be talking to a loved one, making yourself a delectable meal, or simply enjoying a cup of tea, discover what makes you happy.  Understanding the privilege of having a bed to sleep on or merely waking up every morning is the first step to self-fulfilling happiness. When you realize that you do not need someone to make you happy, you will come to find that you don't need anyone to reach happiness to know who they are, just because you're lonely does not mean you're alone.