The Athens Drive volleyball team shows their teamwork throughout the season
The Athens Drive Volleyball teams have been pushing through and have finally reached the middle of their 2022-2023 season. There are three teams in total: varsity, junior varsity A and junior varsity B. Throughout the season, each individual team has gotten closer together as a joint team and improved. Coaches and players have noticed the improvements the Athens Drive varsity and junior-varsity volleyball teams have shown. 
Volleyball is a sport that requires six players on the court at a time to work together to score against the opponents. One person can not win a volleyball game by themselves, they must work with their team to win. Each player plays a certain position to work together and get the ball over the net and score a point.
Playing together gives a team more knowledge of each other and the ability to work better together on the court. A team can not immediately know how to play alongside each other, it comes with time working with one another. With this time and care the Athens Drive volleyball team has been able to improve throughout the season.
"Learning how our teammates work and bringing that all together has been a positive change." Said Connor Bayer, coach of the Athens Drive varsity volleyball team.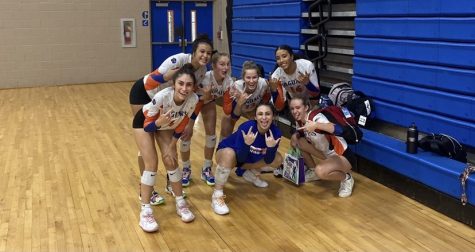 Each year the Athens Drive varsity and junior-varsity volleyball teams gain new players, some with no previous experience playing volleyball. Like any new team, it is a rough start, but once a team begins to work together, they can grow and become stronger together. All three Athens Drive volleyball teams have shown this throughout the first half of this season. 
The teams are currently in the middle of their season. The Varsity team currently has four wins and seven losses. The JV A team currently has four wins and two losses. 
  Even when the junior-varsity A team endures a loss, they know how to overcome the defeat and use it as a way to get better. This goes with each of Athens' volleyball teams. With this outlook, the Athens Drive volleyball teams are always improving no matter what score they have in-game and improvement can still be its own victory. A team able to grow even when they lose a game will be able to keep growing, and that is something the Athens Drive volleyball teams have shown throughout this first half of the season.
 This is something Katie Beth Cornell, a player on JV A, knows well.
"We have had great constructive competition and I feel that all three teams have gotten so much better since august 3rd," said Cornell.
"
"Talent wins games, but teamwork and intelligence win championships.""
— Michael Jordan
Throughout the first half of the 2022-2023 Athens Drive volleyball season, the teams have shown improvement and are expected to show even more improvement for the rest of the season and the upcoming games it has in store. So far this season has seemed quite the success for Athens Drive and will continue to be with the development and growth of each team. 
Conner Bayer, the varsity volleyball coach at Athens Drive high school, is proud of the teams' joint efforts and also saw the progress the team has shown.
"We've shown improvement with experience playing together as a team and learning," said Bayer.