Buying on a budget: A high schooler's guide to low-cost sustainable fashion
May 13, 2022
Shein. TopShop. H&M. Zara. Recognize any names? These brands are the products of a new era of fashion called fast fashion. While they sport modern styles and low price tags, the costs behind the scenes are often much higher. Some of the brands we have grown to love the most are also having some of the most harmful impacts on human rights and the environment. Over the years, it has become much more profitable for companies to cut costs through outsourced labor, cheaper materials, and lower environmental standards. The rising era of eco-awareness forces high schoolers to consider the impact of the choices they make. 
Simultaneously, fashion is a staple amongst the developing teenage identity. It can be difficult to balance affordable and realistic lifestyle choices with the most modern, woke, ethical options available because those are also often the most expensive. So, we must beg the question: how do we fit in while still making good choices about the fits that we're in? Read on for a guide to buying on a budget!
What is Fast Fashion?
Fast fashion refers to the modern methods of producing clothes in new styles on a weekly basis. This means that styles change quickly, forcing individuals to buy quickly and companies to produce quickly to keep up. The result is often cheap, overproduced clothes that result in more environmental waste. This also results in much more money constantly spent buying new clothes that don't often last long over the course of a consumer's lifetime.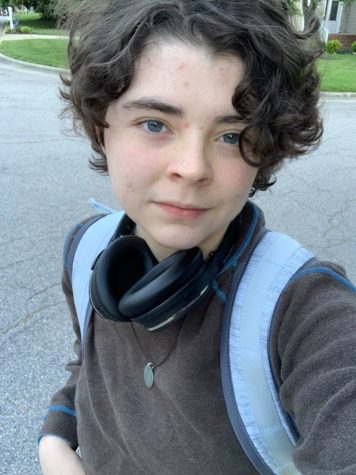 The 30-Wear Rule
To know just how well your clothes are lasting, try this rule developed by Livia Perth, a fashion activist and founder of eco-age.com; the 30 wear rule. Whether you are assessing a piece of clothing you've worn before or plan on buying soon, ask yourself- would I wear this piece of clothing at least 30 times before it gets thrown out? If the answer is yes, it means two great things for a consumer. One, they are now incorporating a piece into their wardrobe that is most suited to their style, and that is most likely to last long with their style based on its compatibility with other pieces of clothing in that wardrobe. Two, it means they've taken a big step towards reducing their environmental impact. 
"If we managed to extend the usable lifespan of our clothes by just 3 months, we would reduce our carbon, water and waste footprints by around 5-10%. This is why we need the 30 wears campaign," writes sustainable fashion brand Cariki. 
Quality Over Quantity
There can be some extreme differences in price between brands, such as the shock of $200 Levi's Jeans as opposed to $2 Shein jeans. However, the difference doesn't always have to be insurmountable. Finding a good middle ground in price allows you to find higher quality, longer-lasting clothing. When consumers reflect on a lifetime of fashion purchases, they find that they will spend less money buying higher-priced clothing clothes that they'll wear for a lifetime as opposed to cheaper clothing, which requires constant closet replenishment.
"If you shop at places like Old Navy, you need to check your seams and fabrics before you buy it. It's lower quality, so it falls apart! It's best to spend a little extra and get better quality stuff that will last you longer," said Jackie Berg, apparel teacher at Athens Drive high school. 
Give Yourself A Waitlist 
A shopping habit unique to this day and age is the chronic 'add to cart' syndrome. Because of the accessibility of online shopping, Americans, in particular, have gotten really good at making purchases at unprecedented rates. This leads to consequences such as excessive waste, and low-quality production to keep up with high demand, and when it comes to clothes, we tend to buy more and use less. One of the best ways to combat fast fashion is in the name itself; slow down. Luik's trick is to hold off on the items that most catch your eye for 1-3 weeks, and during that time, identify all the instances where you come across situations or other clothing items that you would wear it with.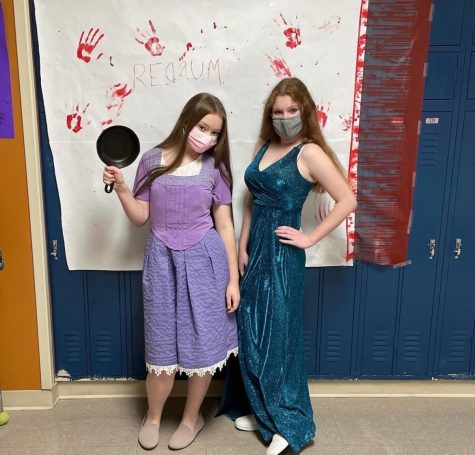 "People are so quick to click add to cart and immediately buy things but just slow it down! There's no rush! Instead of buying something every week, maybe instead buy something every month possibly. Slow it down until you have a nice wardrobe you can keep wearing and maybe eventually you won't have to buy anything for years," said Luik.
This can have two benefits for consumers. First, it minimizes impulse buying, increasing the likelihood that the things you do end up purchasing are items you'll keep around for ages and truly enjoy having. Second, once you've found a piece of clothing that ideally you'll wear for years to come, what's the harm in waiting a couple of extra weeks, or even months until upcoming sales reduce prices and make the wait that much more worth it? This also allows you to up the ante and venture into more sustainably produced yet slightly more expensive brands without breaking the bank.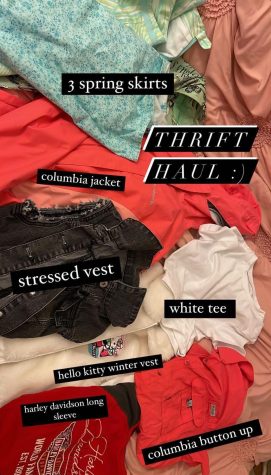 Shop Second Hand
Thrifting ensures that rather than clothing going to landfills, each piece is used to its full extent and the money spent on thrifted fashion is kept out of supporting the rising demand to cut costs and create a high output of low-quality clothing. It contributes to a more circular economy. 
"A lot of people tend to throw their clothes away rather than donate them which is upsetting. Wearing those clothes through their full life is preventing you from buying clothes that you don't need and it's just not necessary to throw out your clothes," said Luik. 
Second-hand can be overwhelming. To overcome the sensory overload of clothes, go into it with an idea of what you want. Your waitlist should look like this- "I have three shirts that would all look really good with black cargo pants or something similar. I also like how Hilary Duff styles herself in my favorite movie. I'm going to find pieces that work for these looks!" The best thing you can do for your closet is stick to a color scheme. Once you find what colors work best for you, and more importantly, which ones don't, it's easier to walk into any store, thrift or otherwise, and know exactly what you're looking for. 
With the rising popularity of second-hand fashion and increasing awareness of the impacts of consumerism, sustainable fashion really is the new cool. It's not the only point of awareness that's on the rise, growing in popularity alongside climate change and social awareness. However, like the newly dubbed term climate anxiety, the issues in fashion can cause anxiety too. By taking small, consistent steps to change the way we dress, individuals can put their minds at ease knowing the changes they make to their closets are changes that last a lifetime. 
"It's not your fault, always remember that. You may think because I'm wearing this piece of unsustainable fashion, it's all my fault but it's not. Don't be upset that you're wearing something unsustainable if you can't help it and don't put that burden on yourself. If you can change your ways, go for it! But don't put that burden entirely on yourself," said Luik.