ADHS Women's Basketball reaches new heights despite difficult season
April 6, 2022
The Athens Drive women's basketball team's latest season ended Feb 24 with a loss at their second playoff game, but the months of hard work and unprecedented success leading up to that day were nothing short of an overall win. The team ranked second in their conference of 6, with 20 losses and 7 wins. They ranked 52 statewide out of 594 teams on MaxPreps.
 "We've had a total of over 20 season wins this year which hasn't happened since 2014 when Grace Hunter, who now plays professionally for NC State women's basketball, was here," said Senior Captain Jorie Mills.
Videos captured after a winning shot shows the team's raw energy and unconditional pride in themselves and each other as they gather to celebrate around their injured players with cheers, jumps, and endless camaraderie.
Their hard work is evident through their connection on the court and their achievements off the court. They have a nearly 4.0 overall GPA and showed their heartfelt support for one another during the Coming-Home pep rally for their championship game. Markayla Massenburg, senior captain and high scorer, recalls a particularly strenuous game against Wake Forest. Their competitors were ruthless and undefeated, leaving the players anticipating a difficult game and a heightened need for preparation. After two days of watching and analyzing film to prepare for the game, the team shocked even themselves.  
"We came into the game and just blew 'em out. That was around December, before Christmas break- basketball season had just kinda started and we were still connecting so I think that was a good win to bring confidence to everybody," said Massenburg.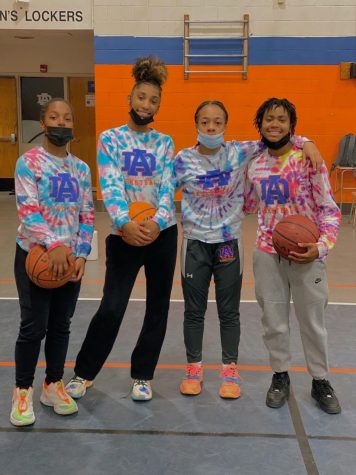 This season's unprecedented successes were not limited to the number of games they won. The relationships between players and their captains have been credited often for their successful gameplay. Leadership was made up of Seniors Markayla Massenburg and Jorie Mills, and Juniors Ramatou Diabi and Paris Webster. The captains fostered positive team relationships and work ethic both on and off the court through activities such as tye-dyeing, getting lunch regularly after practices, and even taking classes together that brought the girls closer. The team was all part of a semester-long weightlifting class that allowed them to bond before and during their season on top of preparing physically for better performance. 
The team's journey to the playoffs was not without its obstacles. Players were down with more than five injuries over the course of the season. Massenburg suffered from an ACL injury with 10 games to go. This kept her out of about five games during the season, all playoff and conference games, and the whole postseason. Additional injuries included three sprained or fractured ankles and another ACL tear. However, the team's strength and support for one another kept injuries from affecting gameplay. 
"Other girls had to step up, Savannah Dixon [Senior] played a huge role, especially at the end; Mackenzie Kelly and Quincie Toran [Freshmen] had to take their freshman hats off and play like upperclassmen," said Stephenson.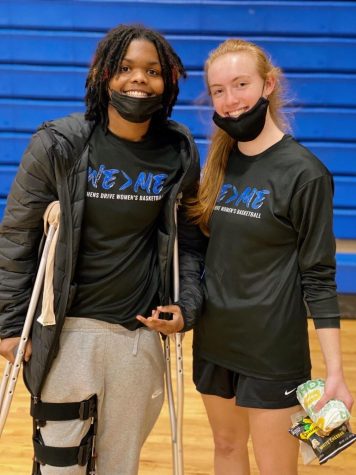 Like all sports, they also dealt with their fair share of COVID-related interruptions. Multiple players were out of practice due to quarantine restrictions, as was Coach Stephenson herself. Coupled with the injuries, stellar teamwork was non-negotiable to equalize the burden on the court amongst all players. After a previous year of playing while wearing masks and with their strong leadership, the players were better prepared to accommodate for such hold-ups during gameplay. 
However, one of the enduring difficulties ADHS women's basketball has faced is the team's struggle with a lack of recognition. From empty bleachers at their games to undercoverage on their many wins, the girl's spotlight is often stolen by teams that are more popular in name than in game. 
"Everybody would show up to the boys' basketball games. The only time we got a lot of fans is if it was a quad and the boys were playing after us, even though we were playing amazing every single game and our games are actually interesting. It's always down to the wire," said Massenburg.
That hasn't stopped the Athens Drive women's basketball team from a season of wins, which they expect to repeat next year. Amongst the team camaraderie, propitious coaching, and raw talent is a group of girls who know what they're worth to the Athens Drive mentality. 
"We're a great representation of what the Athens Drive community and school want to be like," said Stephenson. "We're working with the community as a community to show that Athens drive isn't just a mediocre school, it's a great school. We want to be pioneers for every other club and sport and individual here. If you put your mind to it and you work together and persevere as a team, you can get through anything."