VolleyBros declare "Chewblocka" team winner
Haven House charity receives $515 from profits
Athens Drive hosted their seventh annual VolleyBros volleyball tournament Thursday, March 3, 2022. It is an event comprised of all-male competitors, who compete in a ranked-tournament style of competition that ends in two teams going head to head. The teams can be comprised of staff members or students, but the students all have to be of the same grade level. The tickets and commemorative t-shirt proceeds all go to a charity, which the Student Government collectively decades upon. This year, the proceeds all went to Haven House, a local charity that provides aid to homeless youth. 
"8-teams battled out with Haven House of Raleigh ultimately benefiting from a generous $515 donation!" said Chris Remaley, Student Government advisor.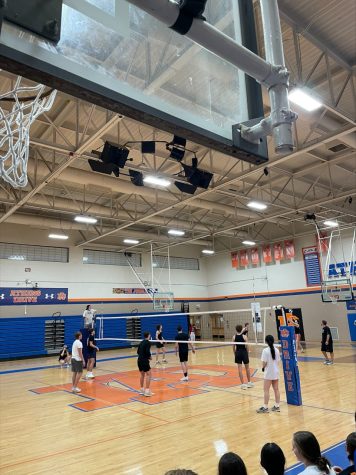 This year we had eight different teams of staff and students. They battled it out for two hours, with a final ending of team "Chewblocka" winning, led by the head volleyball coach Connor Bayer and Coach Westbrook, who helps coach softball. Other team names included "Senior Mashalla", "Da OG's", "Backyardigans", "Volleybuds", "The Blues", "Chess Pieces", and "The Spooks". The final matchup ended in a head-to-head battle between "Chewblocka" and "Volleybuds". 
"BIG shout out and thanks to the Volleyball Team (and Coach Bayer) for setting up the gym, coaching the teams and officiating the matches!" said Chris Remaley.
Connor Bayer, the coach of "Chewblocka", the winning team, and co-organizer of the tournament is very passionate about volleyball because he is the head volleyball coach at Athens Drive. 
"We lost one of our first games, which was a huge motivation for us to keep winning," said Bayer.
He was recruited by some seniors in his Vietnam class, who approached him to help them to win. They lost one of their games, a best out of three format, and they used that disappointment to drive them to the win. They went against two other teams, "Backyardigans" and "Seniors Mashalla" before they finally went toe to toe with the opposite winners, "Volleybuds". After a lot of hard work, they beat out "Volleybuds" and gained victory through a lot of hard work. 
"I'm always down for a challenge," said Bayer.