The balancing act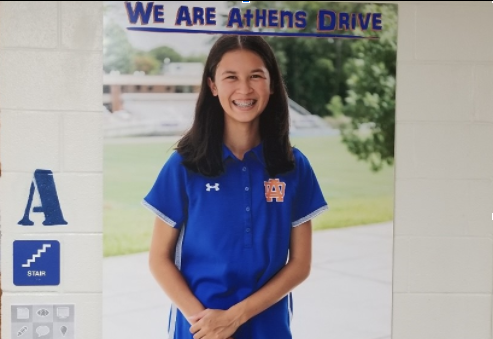 After-school activities and large amounts of school work have proven to be hard for many high school students. Charlotte Holcombe showed us that tackling many talents all at once is possible. Last semester, she joined the golf and volleyball team during the same semester, while still maintaining good grades. The process was not easy and pushed her to her limits.
"I was so confident. When I heard that they were both in the same season I was like oh yeah, I got it. Then school starts and I'm running around like wait, no, I can't do this," said Holcombe.
Holcombe questioned her ability to tackle both sports at the same time. Over time, she proved to herself that it could be possible.
"I would stay out of the house and wouldn't get back until nine some nights. There was also the constant problem of not eating enough, not because I didn't want to but because I had to pack everything. Lunch, dinner, snacks it got so exhausting," said Holcombe.
Some examples of what she would pack were pasta, peanut butter sandwich and goldfish.
Holcombe would find herself having to pick and choose which practices to attend. It was hard because she could be benched if she did not go to enough practices.
"My coaches would try to be as understanding as they could be. For volleyball, however, if you didn't show up to the practice before the game, you couldn't play the game," said Holcombe.
One day Holcombe had a golf match before her volleyball game, which stirred up an issue. She went to the golf match but it cost her playing time in the volleyball match.
"It was a balancing act," said Holcombe.
Over time, balancing both sports became easier because it was an everyday thing.
"I was mainly going to volleyball practices during the week and then playing golf every weekend on my own. So I was getting in the practice, just not with my team," Holcombe said.
Her coaches were very understanding about her situation.
"Charlotte is a phenomenal golfer and she has a passion for the game. The great thing about "practicing golf" is that you just go out and play and you don't necessarily need to be with your team to practice," said Kerri-Ann Ruthven, Golf coach.
This process went on for almost three months which both physically and mentally drained Holcombe, but there was one big reason she kept doing it.
"The only reason I kept doing it was because I felt a connection with both teams. Like if I wasn't enjoying myself, I wouldn't have done it, but I liked both teams so much it helped me continue," Holcombe stated.
The importance of companionship proves to be a driving force in a team's success. Holcombe found herself being motivated to go to the team events because of the people on the team. 
"Spending time enjoying every practice with all the players was what kept me going," said Holcombe.
The golf team recruited a lot of new players this year. Some players almost made it to the states.
"It was an overall very successful year for golf," Holcombe said.
Volleyball, on the other hand, was not so successful. However, Holcombe still found the experience and lessons learned from balancing it with golf very valuable.
"For volleyball, instead of being successful in the winning area, we found our drive and happiness from our companions. Our team bonded so much," said Holcombe.
For this reason, Holocome says that she has no regrets about doing both sports. Doing these two sports at the same time also taught her some things she can carry through life.
"I think doing this increased my motivation to either go practice or do my homework, helping my time management skills. I would have to use the time that I had wisely to either do homework or relax for a bit," said Holcombe.