Forensics teacher Shannon Wilkins wins over students at Athens Drive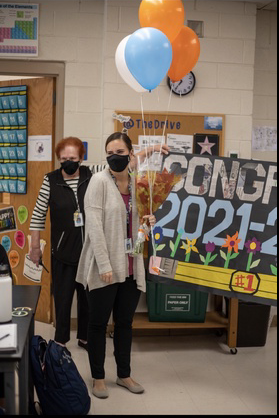 Forensics teacher Shannon Wilkins was awarded teacher of the year at Athens Drive for the 2021 school year
Finding a fun class with a nice, encouraging and inspiring teacher can be a hassle. One choice out of many elective classes chosen by students is Forensic science.
Shannon Wilkins is a teacher at Athens Drive high school who has been teaching for nine years now. Teachers often face the struggle of needing to be relatable and fun in classes while still conveying information.
"She makes the work interesting so I want to keep doing it," said Rachel Thompson, sophomore at Athens Drive High school. 
Since the start of Covid and going back to in-person school, it has been hard for both teachers and students to get back into the routine of real-life school. Students might find it uncomfortable to get used to the mask situation along with having to skip a whole year of no school and just sitting in front of a computer for eight hours straight. 
"It was hard transitioning back from remote learning and trying to pay attention to all students' needs, and not just their academic needs, you're always trying to pay attention to students' needs but many new or special needs came about due to being in remote learning for a year," said Shannon Wilkins, 2021 teacher of the year.
"I'm proud of how my students feel about how I treat them, I feel like my students would say that I am kind and respectful and view them as individual people, " said Wilkins. Viewing them as individuals and getting into the routine of this year but having great teachers who help out others whether it is their colleagues or students and anyone around them in general is a big fulfillment to them. 
"I feel successful when a student tells me that something I taught them has stuck with them or that I helped prepare them for a class in college, or a future science class, or just any time I know I made an impact," said Wilkins. 
This year was long and lots of memories have come with it. Mrs. Wilkins was awarded Teacher of the Year because she is an inspiring teacher who understands her students and tries to help them out in situations even though they are hard and tend to get harder as time goes by. "She taught me to keep trying the assignments even when it is hard," said Thompson. 
Forensics is a specific type of science but does not lie under one category. It contains many fields and involves lots of hands-on activities to keep students stimulated. 
"She is kind and gives us a good mix of things to do from projects, group work, videos, sheets and online assignments. She also says good morning as you walk in," said Amy Hanna, sophomore. Wilkins had to step in and teach forensics due to another teacher having to leave.
"She was able to take the class and teach it as if she always did," said Hanna. Winning teacher of the year is something big and means a lot to Mrs. Wilkins. 
"Highlight of my year was winning teacher of the year, just cause it means a lot to know that my colleagues feel that way about me, " said Shannon Wilkins. She simply makes the class a more comfortable place for students and a great learning environment. "She is really nice and good at her job," said Thompson. 
Leave a Comment