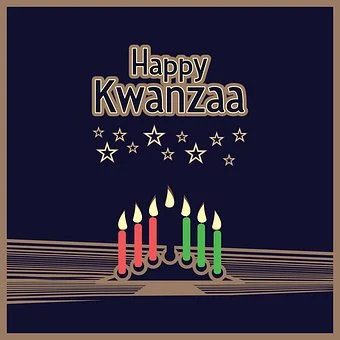 Photos by Pixabay.com
Kwanzaa
Kwanzaa is celebrated from December 26th to January 1st. It celebrates unity, creativity, and faith. It's so that the African American families can connect with their culture, heritage, and roots.
"The relevance it plays is getting closer to your culture and the experience of ancestral praise," said Issac Montague, senior.
Each candle on the kinara represents a different principle. The black candle in the center represents the people themselves, the three red candles represent struggle and/or bloodshed in the past and the three green candles represent the Earth and/or possibilities the future holds.
"My family comes together and celebrates the hardships it took for African Americans to be where they are," said Issac.
Kwanzaa is often mistaken for Hanukkah because they both have candles, but Kwanzaa only lasts for seven days and it's not religious and focuses on the spiritual in nature.
"A misunderstanding I despise is Kwanzaa being Hanukkah for African Americans while Hanukkah is a gorgeous holiday it's very different from Kwanzaa there thrown under the same umbrella as candle holidays for brown folk," said Issac.
Some of the foods on Kwanzaa are catfish, collards, macaroni and cheese, jerk chicken, gumbo, accras, and feijoada. These foods are a tradition for the people who celebrate Kwanzaa.
"We teach to be appreciative of what's been given and what's to come in life," said Issac.