New abortion ban bill in Texas
Texas, being infamous for its controversies regarding the legality of abortions, has continued to advocate against the pro-life movement within their state. A new bill, Senate Bill 8 was first put into action on Sept. 1, stating that women are not legally allowed to get an abortion once cardiac activity has been detected.
The time period between the conception of a child and the detection of its heartbeat is about six weeks. At 6 weeks, most women do not know that they are pregnant.
The law requires that there are no exceptions for rape or incest. There would only be an exception for health reasons such as undergoing chemotherapy, consuming medication that shouldn't be taken during pregnancy or if the pregnancy puts the mother's life at risk.
Many women get abortions for different reasons. Some may still be going to school, not ready to have children, struggling financially or even involved in an abusive relationship. 
Women have had to drive for hours to neighboring states to be able to go to an abortion clinic, including girls that are just twelve years old. 
The Department of Justice has attempted to block the ban by suing Texas after the Biden administration vowed to take action. They argued that Texas cannot deprive women of their constitutional rights. The Joe Biden administration has asked the court to not allow the Texas abortion law to go through. The abortion ban was temporarily blocked for two days by a federal judge as a result of a lawsuit that the Joe Biden administration had filed against Texas. In the two-day block, many clinics continued their services for which they could get sued since the law allowed retroactive enforcement.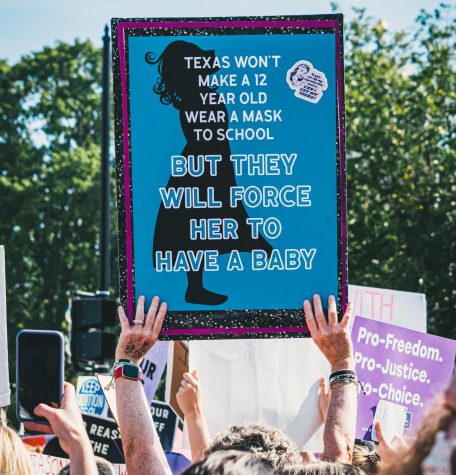 Anyone is allowed to file a lawsuit against someone who is performing or assisting on an abortion after the cardiac activity is detected. If they are successfully sued, they would have a penalty of 10,000 dollars. At least two lawsuits have already been filed against Dr. Alan Braid, a physician in San Antonio who provides abortion care. He has admitted to performing an abortion that was already beyond the first six weeks of the pregnancy during the two-day block. His reasoning for performing the abortion was that it was his duty to care for the patient just like every other patient because they had a fundamental right to receive the care that he provided. 
The abortion ban has sparked hundreds of protests and rallies around the United States.  President and CEO of Planned Parenthood Federation of America, Alexis McGill Johnson spoke at a rally for abortion justice in Washington DC. She explained how abortion care is being attacked and how abortion providers in Texas have had to send patients to other states because their constitutional rights were being denied.
 "The power to determine what happens to our bodies, our lives, our futures. For every woman. Every trans man. Every nonbinary person. Anyone who may EVER need an abortion: We own it. It's ours," said Johnson. 
North Carolina has not passed an anti-abortion law like Senate Bill 8 but, North Carolina is on the verge of joining the group of states that have passed unconstitutional abortion bans. House Bill 453 would prevent abortions depending on the reasoning behind it, the abortion would be denied if it's based on the race of the fetus or a fetal diagnosis of Down Syndrome. HB 453 has been vetoed by Governor Roy Cooper but a vote to override the governor's veto could happen at any moment. 
Women should have the right to decide what they do with their bodies and whether or not they get an abortion. A woman getting an abortion shouldn't be something that she should feel guilty for, she is the one that knows why she made that decision. Women that get abortions have a reason for doing so and they shouldn't have to make a quick decision with just a short span of six weeks on something that could change their entire life.