Students vote for student council elections after an online school year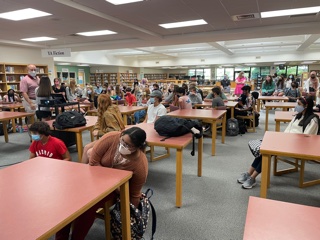 Students at Athens Drive ran for student council elections that were being held from Sept. 8-9. After a school year of online learning, several students will soon be working to make changes and improvements for the Athens Drive community in person rather than online.
 Student council meetings take place every first and third Thursday of the month in room 2618. Student council is open to anyone who wants to be a part of the service organization. Chris Remaley is a math teacher at Athens who has been in charge of the student council for more than 20 years.
 "Student council is an elected group of students chosen by the student body to facilitate school events," said Chris Remaley, math teacher and student council advisor. "They coordinate numerous events throughout the school year such as homecoming, spirit week, the annual charity dodgeball tournament, volleybros, prom, senior picnic and countless other events."
Attending school virtually last year did not drastically affect the student council. For instance, they attended meetings virtually rather than in person and hosted multiple school events. On the other hand, due to an online school year, many students were unaware of the election in May 2021 . Joining student government provides young leaders a platform to improve the Athens Drive community and learn skills to carry through future endeavors, such as pursuing higher education, but that's not the only reason students want to be in the service community.
"I really want to sign up for the student government because planning school events seems really interesting. Considering we are still living through a pandemic, I want to give people a sense of normalcy through school events while being safe," Enzo Mascotello, freshman.
Moscatello is running for freshman vice president this election year. 
For the 2021-22 school year, freshmen students will be electing two class presidents, one vice president, one secretary, one treasurer, ten representatives, and two alternatives. Traditionally, freshmen students elect the members and they remain in the council for the rest of their high school experience.  There are currently six sophomore positions open that the Student Government would like to fill. Position descriptions and more information can be found on the Athens Drive StuCo elections website
 Candidates have spent the first two weeks of school campaigning for the election.
"I've seen a few other people running and it seems very competitive this election season, it's been very stressful… I'm just trying to have fun no matter the results," said Moscatello. 
The elections are 100 percent electronic. Students interested in applying for student government need to campaign. The competition is really strong this year not only because of the amount of in-school and online advertising, but also because of the quality and determination of the other candidates. Some candidates campaign by hanging flyers up in the halls while others campaign via google docs.
"I advertise using paper flyers, speeches in my classes, and personalized cards reminding people how and when to vote," Gwen Peterson, freshman.
Peterson is another candidate running for freshmen president this election year. She wants to be on the student council because she thinks it's a great opportunity to be more involved with the school. Peterson also thinks that this year students need to rise up together as freshmen to the challenges of high school and the pandemic. 
"I'm not in Student Council yet, but the other competitors and the current members from other grades all seem to be really responsible and determined, with the best interest of their peers in mind. I look forward to working with them, or being represented by them," said Peterson.