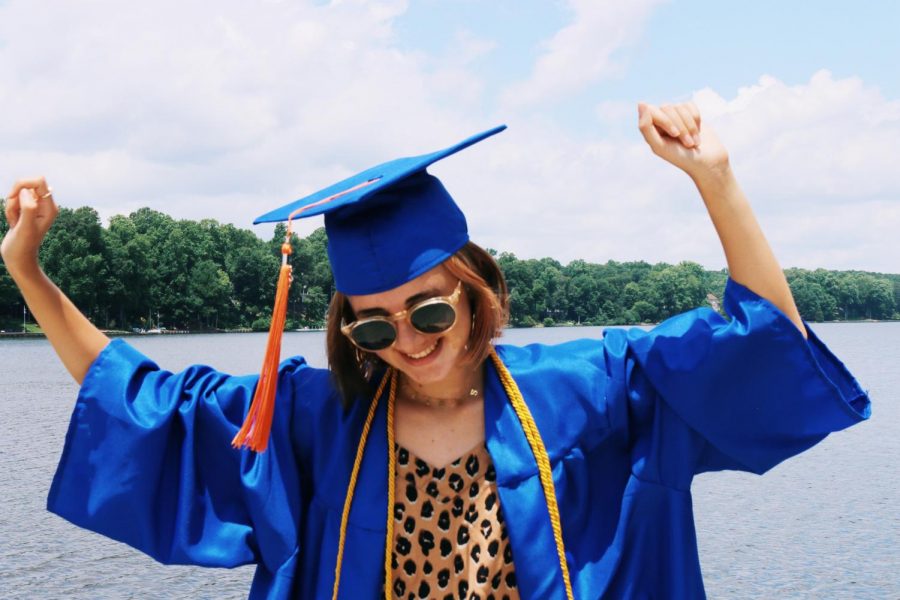 Courtesy of Lili Healey
For Lili Healey '20, online school simply wasn't working. Staring at her computer for an excessive amount of time felt suffocating, and she found it arduous to retain much of the material taught virtually. 
With only a few weeks of her junior year in 2020 remaining, Healey ultimately struck a crossroads: she could continue enduring online learning, which would likely last into the next school year, or graduate a year early. Trusting her instincts, she decided on the latter and rushed to coordinate a way to complete the last credits she needed to graduate, ready for a gap year.
*****
In the 11 months since she left Athens Drive, Healey has spent significant time refocusing her vision on one meaningful aspect of her life—video creation. Her YouTube channel "Lillers," which she began in the summer of 2016, serves as her outlet for experimenting with videography and chronicles her life in a series of vlogs regarding travel mishaps, birthday shenanigans and atypical adventures. 
"I found that the best way to document my life was to capture it on my phone or on my camera. I quickly picked up how to edit videos, and I just became obsessed with it," said Healey. "It's been fun because I get to look back at all the memories that I otherwise would have forgotten about."
When it comes to creating her content, Healey doesn't rely on one straightforward method. Most of her videos guide their own course instead as an idea arises in the moment, and Healey hits record, uploads the footage into Final Cut Pro and seams it all together.
"I have really never planned a video…it just kind of happens," said Healey. " I just go with the flow for my entire editing process."
That process, however, requires time—and lots of it. A regular recap may take Healey only about three hours to edit, while a 10 minute video may need over seven hours, depending on its intricacy. 
Healey warmly welcomes this commitment, having "enjoyed every single video" she ever made and finding solace in the art. Others' uplifting responses and nostalgic reactions to her work additionally reinforce her desire to continue pursuing YouTube.
"I appreciate how I can just sit and watch all of my old videos with my friends and family and just really enjoy the moments that are no longer there," said Healey. "Especially with the moments before the coronavirus, seeing how drastically different my life was, it's really nice to look back and get reminders that these people are still in my life even if I can't see them right now."
Healey has since transformed her filmmaking hobby into a source of income by producing promotional videos for tourism boards, including an AirBnb in San Diego, a resort in Mexico, NC's Pender County, NC's Gaston County and NC's Wilson County.
*****
As Healey's year progressed without school though, travel fever steadily crept in. Having studied abroad in Spain for a semester her sophomore year, she hoped to reunite with her previous host family during her gap year, but the pandemic rendered all her efforts to travel futile.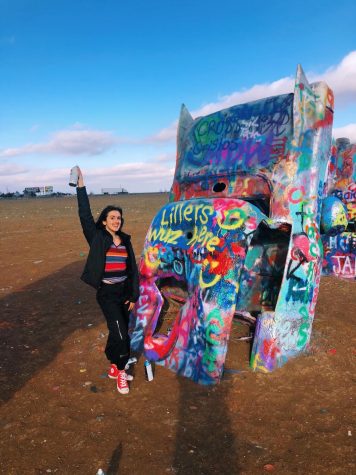 In lieu of Spain, Healey and her father packed t-shirts, shorts and sweatpants into a suitcase and embarked on a 3,000 mile drive to visit Healey's grandmother in Southern California. They drove for a week straight in January, listening to Barack Obama's new podcast and plenty of 80's music to fill the silence.
Healey, who is actually a California native, has driven cross country 16 times throughout her life, and has hence accumulated a list of lesser known landmarks along the route. Among their many stops at these local attractions, Healey and her father visited Cadillac Ranch in Amarillo, TX, where ten 1960's Cadillacs are buried halfway in the ground and graffiti is encouraged.
"There are no rules so you can spray paint over someone's art, and it's this continuous art park that has been there for several years," said Healey. "I got to write my name in it with a bunch of old spray paint cans that I found and it was super cool."
After arriving in California, Healey reconnected with her family and even went whale watching, naturally witnessing rare scenes of killer whales, humpback whales and gray whales, shortly before leaving again for home in February.
"My cousin is a naturalist and he works on the Monterey Bay whale watching team, so he took us out [to the ocean]. I vlogged the experience and as we watched these massive whales, I was just reminded of how small we are in this big world," said Healey. "It was really nice to take a step back and disconnect from all this year has been."
In addition to these escapades, Healey's gap year has consisted of countless days working alongside her mother, artist Elizabeth Laul Healey, to construct and sell colorful, contemporary art. Elizabeth Laul Healey, who opened an art studio April 3, 2020, creates everything from paintings depicting the circle of life to dog sculptures to eight-10 foot tall sculptures called Iconostars.
The art studio can be visited in Wilson, NC, where Healey and her family recently relocated. Its innovative ambience has not only aided Healey in filling the social void left from COVID-19 and moving an hour away from her high school friends, but in inspiring her to pursue her inherent interest in cinematics. She will attend film school at the Pratt Institute in Brooklyn, NY next year.
"Having an artist as a mom has always made me realize my creative potential. Just being in a creative space, whether that was drawing when I was little or now making videos, and even though I don't paint or sculpt, the creative energy in my family just goes a long way in me choosing my route," said Healey. "It made me realize that I never want to be at an office job. I'd rather be somewhere in a collaborative, creative space."