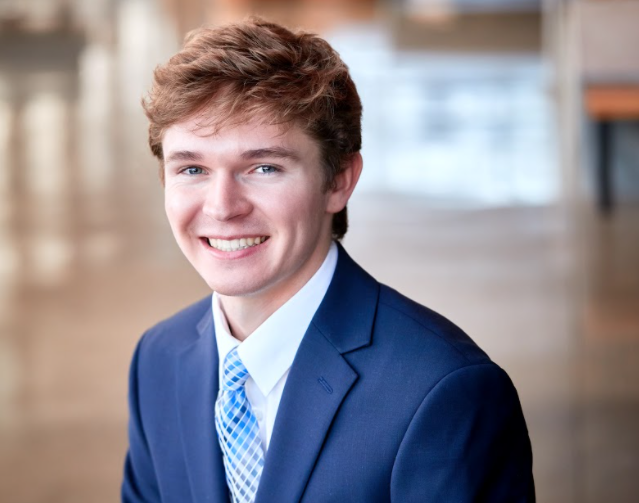 courtesy of Elias Guedira
When senior Elias Guedira recalls his earliest memories of Athens Drive, his mind travels back to his Baby Jag days circa 2006. Guedira's preschool teachers, who fondly nicknamed each of their students, had given him the title "Mr. President" on account of his upbeat demeanor and inclination to learn.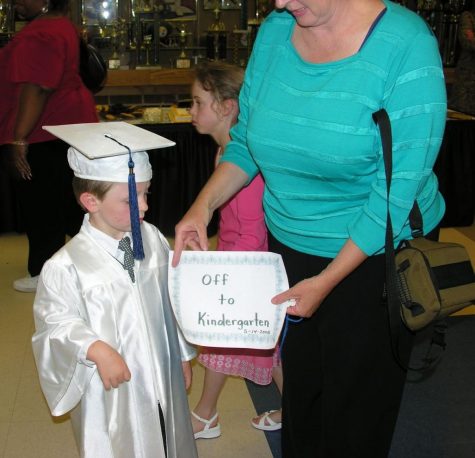 Over a decade later, those same qualities now follow him to his most recent achievement. Guedira discovered in March that he was selected to join UNC Chapel Hill's class of 2025 as a Morehead-Cain scholar—a full-ride accolade offered to only 70 accomplished students globally.
The Morehead-Cain scholarship, one of the most competitive and prestigious merit scholarships offered by UNC, is awarded to high school seniors who exhibit positive leadership, honorable character, remarkable academic achievement and strong athleticism. Valued at over $123,900 for in-state students, it covers the entire cost for four years worth of tuition, room and board, books, a potential gap year, study abroad opportunities, summer experiences and any additional funding necessary for research or service projects.
"I honestly feel so fortunate that I've had an amazing support system throughout my life that led me to this point. At first, I was in disbelief about the situation. I never viewed myself as a perfect applicant; it was easy to compare myself to the other finalists at the selection weekend, but I just came in with the mentality that whatever happens is meant to happen and finding out that I got it was such a blessing," said Guedira. "The feeling of opening that letter was a sensation I don't think I'll ever forget. It's going to be something that sticks to me as a lightbulb memory."
Life as a Jaguar
While at Athens Drive, Guedira has served as a secretary for the Student Council and Science National Honor Society. He has also been heavily involved in Future Farmers of America (FFA), where he was elected as the chapter reporter for the 2020-2021 school year and held the club's first seat on the Health Science Career Academy board. Through these positions, he founded a community garden to grow produce for local food banks and make sustainable agriculture more accessible to Raleigh's youth.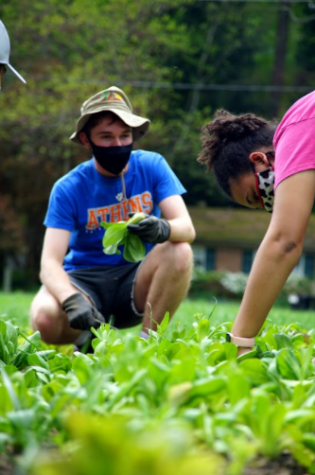 "My first impression of Elias was positive, of course. I remember thinking that he was respectful, kind and very hard working," said Savannah Currens, FFA advisor and animal science teacher. "I will always remember Elias for his diligence in preparing for the Extemporaneous Public Speaking contest that North Carolina FFA hosts, but my most favorite memories of Elias come from his time creating a community garden…it was really neat to see Elias get excited about a project that will benefit our community for many years to come."
Launching a community garden was not Guedira's first time working to aid hunger, however. Prior to his junior year, he went on a mission trip to Puerto Rico nearly two years after Hurricane Maria and Irma struck and was startled by what he saw—an island whose agricultural industry was practically destroyed. 
"There was just so much havoc wreaked across the island and nearly all the crop production had suffered. I was there just two years after it happened and they were still recovering. I knew that if something like this happened in the U.S., the response would have been a lot more adequate," said Guedira. "It was really disheartening to see the level of inequality and how these people had been fighting for justice for years, but it seemed like our leaders weren't doing anything." 
When Guedira returned to North Carolina, his newfound insight into Puerto Rico's political situation inspired him to look into the food insecurity pervading the territory. As the school year unfolded, he used his findings to begin writing a research paper about the injustices faced in Puerto Rico due to natural disasters and century-old laws affecting its status in the U.S.
"While I was doing the research, it occurred to me how self-sufficient the people in Puerto Rico have become. I was really inspired by the hospitality of people in Puerto Rico, and it helped me realize that people with the most power often have the least to give and that so many of our issues wouldn't be issues if people truly understood them," said Guedira. "Oftentimes, if you're not enraged by injustice, then you're not paying enough attention."
Guedira, motivated to advocate for policy change, decided to submit his paper to the World Food Prize and sought the help of Barry Peters, English teacher, during his final stages of writing. Peters joined Guedira at the library for a couple lunch periods, providing revisions and line-editing the essay.
"Elias was an extremely diligent student. He enjoyed discussion. He willingly accepted my criticism about his writing," said Peters. "It was actually great fun for an English teacher to sit there with a student and be all obsessive about whether a sentence needs a comma or not. Elias seemed to enjoy that, or at least he pretended to for my sake. It was gratifying to work with a student who wants to make the world a better place."
In May 2020, Guedira virtually presented his paper to the North Carolina Youth Institute and was chosen as a student delegate for the remote 2020 World Food Prize Global Youth Institute in Iowa. He was among the 200 students selected from a pool of 10,000 participants to attend the three day event and was able to interact with "World Food Prize Laureates and leaders in nutrition, agriculture, technology and international development." 
Guedira sat in on seminars with Tjada D'Oyen McKenna, CEO of Mercy Corps; Al Gore, former U.S. Vice President; and numerous others. During discussions, he learned of how their journeys began similar to his own—researching an unfamiliar country, growing riveted by its political issues and wanting to take action.
"When I first found out I was selected, I think I screamed in joy. It felt gratifying, but it made me want to do more towards the situation. I felt that by doing research, I could only help analyze the problem and hopefully convey [to] others to make an impact," said Guedira. "In the future, I want to have a direct impact on inadequate political systems and help put an end to neo-colonization, which is a major problem. It's not just an issue that affects Puerto Rico; it's an issue that affects so many places all over the world."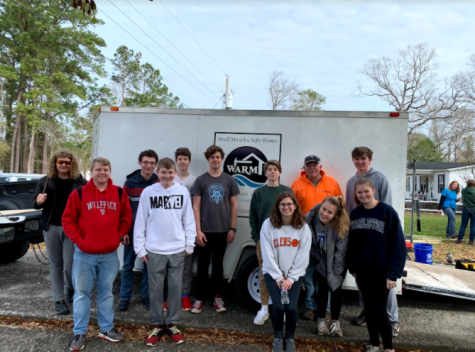 In addition to Puerto Rico, Guedira embarked on hurricane relief trips throughout the Carolinas. He has fundraised for and rehabilitated homes alongside Wilmington Area Rebuilding Ministry (WARM) and AmeriCorps since 2017.
When it comes to internships, Guedira spent much of his time at the NC State University (NCSU)/USDA-ARS Wheat Genetics Laboratory. There, he shadowed a geneticist and assisted in collecting data from his parents' wheat fields and greenhouse experiments "to pinpoint beneficial genes for the increased yields of wheat plants." 
He later interned at NCSU's Department of Biological Sciences, working to genetically modify mice in order to reduce the number of invasive species present on tropical islands.
"I worked alongside Dr. John Godwin to maintain mouse colonies, observe and record mouse behavior. The goal of the experiment was to transfer the SrY gene—responsible for developing male sex characteristics—to an autosome, rendering the next generation of female mice incapable of producing offspring. Eventually, the population would die out as less females could reproduce," said Guedira.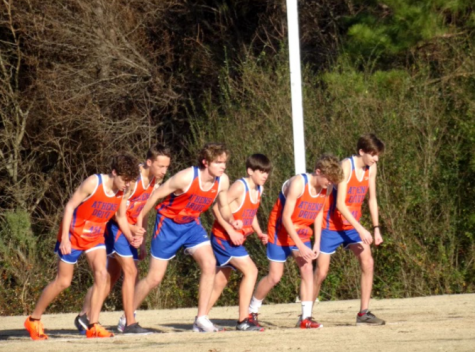 Disregarding stereotypes, Guedira additionally participated as a varsity athlete in lacrosse, track and cross country—which he captains—while indulging in classical music too. He has remained a committed violinist since his childhood, performing with the Triangle Youth String Sinfonia from 2015 to 2020.
Among his many activities though, Guedira singled out one to be his most memorable: tutoring. What began as a way to make friends and get involved—by helping students with their homework during lunch and after school—turned out to be "an incredibly fulfilling experience," where the number of volunteer hours he earned seemed inconsequential. 
After learning about Project Drive, a club founded by Cameron Brown '20 that works to teach science to students at A.B. Combs Elementary School, Guedira immediately wanted to join, eager to bring his enthusiasm for tutoring back to the school he once attended. As a volunteer, he gave several scientific presentations on kinetic energy and motion to a group of fifth graders.
"Project Drive was such a meaningful concept. I was able to interact with kids and catalyze an interest that could last them a lifetime, [yet] it was something that didn't get to go on for too long because of coronavirus," he said. "But tutoring is something that I've done ever since my freshman year and helping peers realize, 'Hey, I'm capable. I can do this,' and then spreading that mentality to other people…I think that's been one of my greatest impacts at Athens."
Guedira credits much of his success to Athens Drive's staff, who he emphasized had an irrevocable impact on him. One of his most influential teachers was Trena Kirby, AP Human Geography and AP Government and Politics teacher, who he said trained him to think from multiple viewpoints and ask thought-provoking questions.
Having taught Guedira for two semesters, Kirby remarked that he was an exceedingly well rounded and knowledgeable student, but still had a healthy respect for what he did not know. He was also well liked and funny, she stated, whilst consistently remaining humble.
"He never bragged about his achievements and didn't dominate class, which he easily could have done," said Kirby. "I hope he doesn't let anyone underestimate him in the future—I think I did—just because he seems so happy and relaxed. He can be popular and smart and involved. Elias is going to make a difference in this world."
At UNC, Guedira hopes to pursue a degree in the public health concentration—a decision made after witnessing families battling the rising costs of treating Phenylketonuria (PKU). Patients with this rare, genetic disorder lack the enzyme necessary to break down phenylalanine, the amino acid found in protein.
"I actually know two children with PKU, so they are unable to consume most protein that you and I are able to. It requires a specific formula, but this formula can be very expensive," said Guedira. "Oftentimes, it poses a struggle to obtain formula, because healthcare plans are not always keen to cover the costs of 'food.' I want to pursue a career in public health so I can help eliminate barriers for people who are suffering with chronic diseases, such as PKU." 
Significant realizations
Looking back at the past four years, Guedira recalled how he learned to let go of others' perceptions of him. He recounted that his freshman and sophomore year mindset centered around frivolous matters, such as "trying to go along with the crowd" and enrolling in certain classes simply for their GPA boost. Yet after taking animal science, he took the reins of his life and steered himself in the direction of his true interests, regardless of whether they fit the norm.
"I feel like for so much of high school, I was overly concerned about what people wanted for me, rather than what I wanted. I think one of the ways that I've transitioned in high school is from being someone who felt the need to be a people pleaser to somebody who accepted and reconciled with my shortcomings. I've learned to accept defeat instead of doubting myself because of it," said Guedira. "I embrace the fact that not everything is going to work out and to not be afraid of failure because in the end, it's far more crucial for your personal growth that success ever is."
Guedira encourages students to spend high school as an exploratory period for uncovering new passions, expanding friendships and embracing their individuality. In pursuit to do this on an international scale before college, he plans to take a gap year—travelling across the globe to gain unconventional perspectives and experiences—with the network and financial support of the Morehead-Cain foundation.
"Don't compare yourself to those around you; focus on what you truly care about. Do what you do because you love doing it. That's something that you won't always have the privilege to do in life," he said. "Just keep doing you."