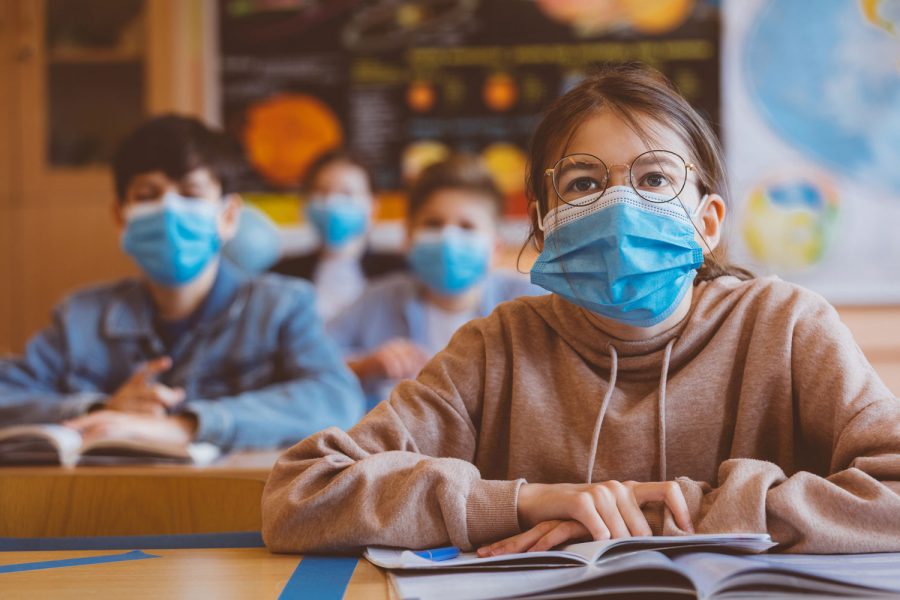 Nina Bai of University of California San Francisco
Due to substantial demand from students, families and state leaders, the Wake County Public School System (WCPSS) is working to reopen campuses for in-person instruction starting as soon as mid-February. This decision was made Feb. 2 at a Wake County board meeting which resulted in an 8-1 vote in favor of returning schools to campus. 
Of the nine members on the board, Jim Martin was the exclusive "no" vote. He seemingly represents the large portion of students and families in Wake County who are not comfortable with returning to campus during an unprecedented pandemic. Martin is not confident in the safety precautions Wake County has to offer.
"I will stick with the science," Martin said. "Without the commitment to rigorous social distancing, I will be having to vote no on this plan." 
The majority of Wake County, however, has been awaiting the reopening of campuses and welcomes it with open arms. Classrooms have been abandoned for nearly a year now and replaced with laptops. The change was, and continues to be, controversial.
The return plan was constructed after a district survey of 33,000 Wake County families was conducted. Its results revealed that many parents want their children to return to campus for in-person instruction promptly without awaiting the decline of COVID-19 cases or the availability of vaccines.
Separation is part of the circumspection provided through Wake County's return plan. Students in pre-kindergarten through third grade who plan on returning to campus will be provided with daily in-person instruction, while students in grades 4 through 12 will be put into cohorts and sent through a rotating schedule. Students who opted to continue with the virtual academy will not experience much change to their schedules.
The district plans on taking preventive measures to ensure the safety of the students and staff who will return to campus. The extent of which being daily temperature and symptom checks, face covering-requirements, social distancing and sanitizing and disinfecting supplies.
Most of the 162,000 students Wake County educates are excited to finally step foot on the grounds of their school's campus once again and finally separate their home lives from their school lives.
"I need to have somewhere else to go at the end of the day where I can leave school instead of having it all inside of my room," said Olivia Galvin-Yglesias, sophomore. "I need to see other people to reassure myself that the world is still turning."
Still, many Wake County associates are not satisfied with the return plan. The proposal requires schools to provide on-campus instruction, but plans for little else. It stresses the decisiveness of individual schools leaders, however, many Wake County schools do not have the demanded time nor resources.  
"The indecisiveness of the elected board members is setting us up for failure as an entire institution while still allowing themselves the opportunity to say 'Hey, we met the parent request but it was the schools who failed to implement it,'" said Shane Barry, teacher and STEM Academy Coordinator. 
Organization is the basis that schools rely on to function effectively. To some students, the return plan is not providing that reassurance.
"There is such a vast spectrum of different people in the education system that there is no possible way to come up with one plan that can accommodate everyone's needs," said Galvin-Yglesias.
Not only is the organization of their schedules unspecified, but with the country's growing COVID-19 cases, their health is at stake. 
"There is an inevitable chance of staff and students contracting and spreading the virus," said Tala Hamadeesa, sophomore. "Cases will definitely go up and that won't be safe for anyone." 
Teachers are an essential part of every school system. They, too, are worried about the return to campus. Without the availability of COVID-19 vaccines, educators are left unprotected. These concerns have left schools understaffed which creates more holes in Wake County's return plan.
"We are the ones forgotten in all of this," said Barry. "What happens when school staff members have to start quarantining because of inevitable exposure? How will schools function?" 
The return plan has, more than anything, left the students, staff and families of Wake County with split, conflicting opinions.
"I have two sides to this, as many do," said Barry. "I really want to see my student's faces again, but I also want to make sure that they are safe."